An Innovative Solution for Multilingual Drupal Websites
ICanLocalize Translator is a new system for translating Drupal powered websites. It allows running multilingual Drupal sites without spending any time on creating translations or keeping them up-to-date.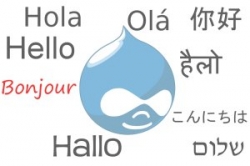 Nevada, NV, March 19, 2009 --(
PR.com
)-- ICanLocalize has introduced
ICanLocalize Translator
, a new web site localization system for Drupal powered sites. Today, thousands of small businesses, nonprofits, universities, and government agencies are using Drupal as their web sites' content management system. ICanLocalize Translator automates Drupal localization, making it easy and affordable for the smallest of businesses.
Drupal's ability to build multilingual sites plays a major part in its success in becoming the standard for website content management. ICanLocalize takes this a big step forward by automating the entire translation process. Website owners can create contents in their language and ICanLocalize's translation system builds all translated contents. All translation related work, including page contents, navigation and even visitor communication is handled by ICanLocalize Translator.
ICanLocalize Translator is simple to set up, and effortless to run. A one time setup determines which languages to translate between. From that point, all content translation happens automatically. The system integrates seamlessly with Drupal, enabling translation for Drupal pages, posts, book, CCK content, and taxonomy.
ICanLocalize Translator grabs the information to be translated and sends it to their professional translators. Translation prices are low because translators are freed from all technical work. Translators don't need to know Drupal and only edit text without dealing with any technical issues. Each translator creates text in a new language, and the system automatically maintains that language in Drupal.
Prices are remarkably affordable, making multilingual sites easy for small businesses to create and maintain. There are no up-front fees, no expensive project manager, and no delays. Simply pay for the translation resources that you use, and get fast translations. ICanLocalize only employs certified professional translators and provides a full guarantee for both the quality and schedule of each project.
Some business people hesitate to create foreign language version of their web site because they're worried that they'll receive pre-sale inquiries or post-sale questions and not be able to respond. ICanLocalize has a quick and inexpensive solution to the problem. For very little money, the service will translate your incoming foreign language inquiries into your language, and then translate your responses. This process too is fully streamlined and integrates with the Drupal's contact forms. ICanLocalize supports a large and growing number of languages.
ICanLocalize Translator is a Drupal module. It supports Drupal 6. For complete instructions on how to use it in your Drupal based website, visit:
http://drupal-translation.com
.
###
Contact
OnTheGoSystems,INC.
Amir Helzer
+1-(310)-9286744
www.icanlocalize.com

Contact