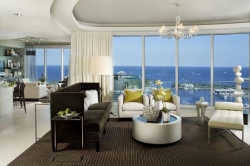 St Peterburg, FL, March 27, 2009 --(
PR.com
)-- The award-winning designers of Beasley & Henley Interior Design created a masterpiece with their newest model for JMC Development, The Ovation Penthouse. Located in St. Petersburg, FL, the Ovation is a new tower with million dollar condos and fabulous panoramic vistas! Principal Designer Troy Beasley, Interior Architect Christian Tejkal and Designer Daniel Killgore, altered portions of the floor plan, added a lot of pazzaz and made it a stunning success.
The new space marries sophisticated, modern design with earthy organics. The flooring includes eucalyptus, white stone, glass tile, metallic porcelain, pebble tile and resin; the cabinets are high gloss white in some areas and lacquered grey in others; the master tub-face and wall are covered in striking yellow glass; in places walls are Venetian Plastered and ceilings are silver leafed; a mod 'hatbox' toilet and thick top-mounted glass sink get people whispering – "I want that!"
Throughout the penthouse swirling soffits in the ceilings were added to enhance the sweeping feeling of the space and luscious curves all around. Cove lighting is hidden inside.
Fabrics and furnishings are fresh and fashionable, set in a background of cool whites, vibrant citrons and unexpected aquas.
Some details from the main rooms include:
In the Grand Salon and Dining Rooms white stone floors and fabric-draped walls provide a touchable element to this space and a definite 'wow' effect to these sophisticated rooms. A dramatic, floating white lacquer Eco-Smart fireplace opens in the middle to both rooms.
The Kitchen and Family Room provide a casual, comfortable retreat with stunning views of the pier below. The modern cabinetry and custom zebra-wood built-in make this a truly unique space.
The Master Bedroom with its draped entry, offers a cool white environment highlighted with rich charcoal-grey eucalyptus floors and dramatic pops of bright yellow and red fabric accents.
Beasley & Henley has also assembled an incredible collection of artwork, sculpture, and accessories throughout that add to this unique, stunning home.
For more information or photography on the Ovation Penthouse or information on Beasley & Henley Interior Design, please reach Stephanie Henley stephaniehenely@beasleyandhenley.com or 407-629-7756, 239-774-1005.
Photography by Rob Harris
###
Beasley & Henley Interior Design is a 15-year-old interior design firm, specializing in Luxury Interiors, Exclusive Residences and, Interior Architecture. Their work has been featured in regional and national publications and their awards are numerous. Beasley & Henley's award winning design and architectural detailing can be seen throughout Florida and across the country. Visit our on-line portfolio at www.beasleyandhenley.com.
Contact: Stephanie Henley; stephaniehenley@beasleyandhenley.com