Kettlebell Elite Fitness Studio Grand Opening 18 April 2009
Though economic woes make small businesses vulnerable, a Navy wife is taking a chance and doing her part to try and help the local Virginia Beach economy. Kettlebells are already the latest craze on the west coast due to the Russian fitness tools' incredible results. Now, the first ever Kettlebell Studio, Kettlebell Elite, provides workouts that will shred the fat, increase endurance, increase strength, and increase flexibility. Workouts are led by Karen Smith, a Russian Certified Instructor.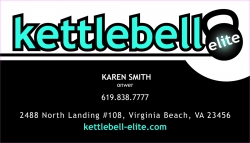 Virginia Beach, VA, April 13, 2009 --(
PR.com
)-- Karen Smith, a Russian Certified Kettlebell Instructor and owner of Kettlebell Elite Fitness Studio, is having her grand opening April 18th 2009. Karen is an experienced personal trainer with over 10 year fitness instruction experience. She has single handedly taken people to the next level in health and performance from coast to coast. She started her fitness career in San Diego where she trained high profile clientele at a La Jolla private fitness club. She then helped start the first Kettlebell Studio in Washington DC and is now opening her own in Virginia Beach, Virginia. She is offering economically sound fitness packages for everyone to take advantage.
Kettlebells are the most effective workout tool ever. They combined endurance, strength, and flexibility into one fitness solution. Used by Russian Special Forces for centuries, these "cannon balls with handles" hit the United States in 2001 and their incredible results are sweeping the US.
Visit
www.kettlebell-elite.com
for more information.
###