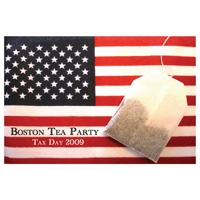 Boston, MA, April 09, 2009 --(
PR.com
)-- Inspired by the growing Tea Party movement sweeping the nation, organizers have scheduled a Tax Day Tea Party to take place at the Massachusetts State House on Wednesday, April 15th from 12:00 pm – 3:00 pm. The protest will feature speakers from Massachusetts' grassroots, business and conservative leadership, welcoming over 1,500 followers who have committed to attending to voice their displeasure with the egregious growth of government and the irresponsible policies our local, state and federal governments are pursuing. Speakers, led by emcee Todd Feinburg of WRKO-AM 680, will take to the steps at 12:00 PM, offering their opinions and suggestions as to how to best deal with the recession and the government's role therein.
The goal of the organizers of the protest has always been to provide a platform for citizens and grassroots leaders to come together in hopes of inspiring participation in the conservative movement, with a focus on recruiting conservative candidates for the 2010 elections. Carla Howell, Committee for Small Government, State Senator Bob Hedlund, R-MA, Jim Stergios, Executive Director of the Pioneer Institute, Michael Johns, conservative leader and writer, David Tuerck, Executive Director of the Beacon Hill Institute, Brad Marston, CnservativeSolutions.org, Chip Faulkner, Associate Director of Citizens of Limited Taxation, Shawni Littlehale of Smart Girl Politics, Barry Hinckley, MA State Director of FairTax.org and Sheridan Folger of Sovereignty Alliance will all speak.
Organized by three conservative women of varying political affiliations and backgrounds - a college student, a recent law school graduate and a stay-home mom - this protest has grown from 300 Facebook members to over 1,500 online members on various web pages on the internet. While the organizers have not received funds for any organization or political party, they have managed to coordinate volunteers, recruit speakers and secure permits from the city to hold the event in conjunction with over 300 protests being held nationwide on Tax Day, April 15th.
More information available at GOPMOM.COM.
http://www.gopmom.com/2009/04/boston-tea-party/
###