Exhibitors Asked to Judge Skyline Exhibits' Best New Product Contest and Enter to Win a Free Display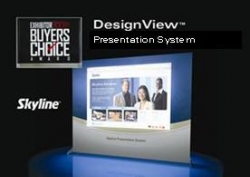 St. Paul, MN, April 21, 2009 --(
PR.com
)-- Skyline Exhibits is holding a new product contest to call attention to its record group of new products. Skyline is asking exhibitors to go to the online contest at
http://tinyurl.com/dzqlgv
to judge which new Skyline trade show display product is the best.
As incentive for judging the contest, Skyline will award to a judge a free 10-foot display of their choice from the new products. The contest ends May 29, 2009.
Here are the 6 new products in the Skyline contest:
Skyline New Product #1:
Myriad™ Banner Stand
Myriad goes beyond the ease of set up and portability of other retractable banner stands by adding a variety of repositionable shelves to display products and literature.
Skyline New Product #2:
Myriad™ Banner Stand Backwall
New center panel helps create a 10-foot merchandising graphic backwall with only two 39" banner stand housing units for greater portability. The center panel is available with either an arched or straight top.
Skyline New Product #3:
Duet™ Banner Stand
Double-sided graphic on a single panel reduces weight and cost, and allows you to just turn around the display to present graphics for two different markets.
Skyline New Product #4:
DesignView™ Presentation System
Now it's easier and more affordable than ever to project large-scale, changeable graphics and video in your 10-foot trade show display, so you always have show-specific graphics.
Skyline New Product #5:
Mirage® Backlit Display System
Small but powerful LED lights add the attention-getting power of backlit mural graphics with the world-famous Mirage pop-up trade show display.
Skyline New Product #6:
Shapes Collection Banner Stand
Dual-layered graphics add dimension and greater design possibilities to the ease of set up and small packing of banner stands.
Exhibitors are encouraged to judge the contest and choose which of Skyline's new 10-foot
trade show displays
they think is the best, by going to
http://tinyurl.com/dzqlgv
. Skyline will award one free new 10-foot display to a judge. The winner can choose the display they want from among Skyline's new products, with a retail value of up to $7,000.
One of these new Skyline products has already won an award: Skyline's new DesignView Presentation System won the 2009 Buyer's Choice Award, which is the best new product award at the EXHIBITOR Show, the biggest event in the trade show industry.
"We're proud to have this large set of new exhibiting solutions that offer greater impact, versatility, and portability for our clients," said Skyline President Mike Vekich. "Skyline has a proud history of creating innovative trade show display products. Over the last several years we've taken a more design-centric approach that is more effective at hitting the mark for our clients."
"Even in the face of the current downturn, Skyline is continuing to expand our new product development," said Vekich. "During the last recession, Skyline launched several new trade show display products that helped us gain market share in the larger custom exhibit market. Trade shows are a valued marketing medium that will rebound stronger still."
Skyline Exhibits is North America's leading brand of exhibit systems. Known for high-quality manufacturing, cost-saving portability, innovative functionality, creative design and exhibitor education, Skyline has nearly 100 Design Centers in North America and representation in 38 countries. The company manufactures a broad range of products for trade shows and events–from banner stands and pop-up displays to large custom modular exhibits. With 20 integrated exhibit systems, state-of-the-art production of large-format graphics and options for exhibit rental and services, Skyline provides exhibit solutions for virtually any size or budget.
###
Contact
Skyline Exhibits
Mike Thimmesch
800-328-2725
www.skyline.com

Contact