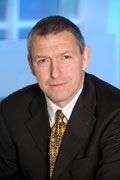 Boston, MA, May 07, 2009 --(
PR.com
)-- Portrait Software, a leading provider of insight driven customer interaction software, today announces the appointment of David Newberry as Chief Marketing Officer. Previously VP of Commercial Operations at marketing operations management specialists Capital ID, his work will concentrate on three key areas: corporate marketing, product marketing and partnership development.
"My key goal is to ensure that Portrait is recognized as the preferred choice for B2C businesses wishing to underpin their profitability by engaging with their customers as individuals", explains David. "In the current economic climate, where all marketing investments need to be justified, our customers are focusing on better managing their existing customer relationships, and Portrait Software is best placed to help them do just that".
Prior to Capital ID, David was Senior Consultant at Marketing Supply Chain, advising international brand-orientated clients, and Co-Founder of ProMost Inc., a web-enabled marketplace for the design and purchase of marketing goods & services. He has also held various senior marketing positions at British American Tobacco.
"David has spent twenty years embedded in the marketing discipline, and this is augmented with his experience gained by growing and working in successful technology companies", comments Portrait's CEO Luke McKeever. "Having worked with David at my previous organization, I am convinced that his unique blend of skills will help to enhance the value Portrait Software delivers to our customers".
About Portrait Software
Portrait Software enables organizations to engage with each of their customers as individuals, resulting in improved customer profitability, increased retention, reduced risk, and outstanding customer experiences. This is achieved through a suite of innovative, insight-driven applications which empower organizations to create enduring one-to-one relationships with their customers. The Portrait suite seamlessly integrates the world's most advanced customer analytics, powerful inbound and outbound campaign management, and best-in-class business process integration to drive real time customer interactions that communicate precisely the right message through the right channel, at the right time.
###