Dawna Lee Heising of EOE Conducts Interviews at NLGJA's 2009 Hooray for Hollywood Fund Raiser Held at CBS Studios and Sponsored by AFTRA
John Alsedek and David McNeil Film Eye on Entertainment Segment at the NLGJA's First Annual West Coast Benefit Sponsored by AFTRA on the New York Street Backlot at CBS Studios in May 2009.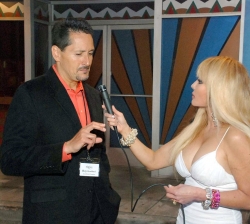 Huntington Beach, CA, May 12, 2009 --(
PR.com
)-- Dawna Lee Heising, John Aldesek and David McNeil of "Eye on Entertainment" (EOE) on Time Warner Cable filmed the latest segment of the weekly show at the National Lesbian & Gay Journalists Association's (NLGJA) first annual West Coast Benefit on the New York Street backlot at CBS Studios on May 9, 2009. EOE was invited to cover the red carpet and entertainment industry event by Ray Bradford, the American Federation of Television & Radio Artists (AFTRA) National Equal Employment Opportunity (EEO) Director and NLGJA National Board Member. AFTRA was a principal sponsor of the event. Dawna Lee Heising is a long-standing member of AFTRA and the Screen Actor's Guild (SAG).
It was a night of stars under the stars for the NLGJA. The event "Hooray for Hollywood: The Age of Entertainment Journalism" was NLGJA's first annual West Coast benefit. Attendees walked the red carpet in support of fair and accurate media coverage of the LGBT community, and mingled with some of the top names in journalism and entertainment on CBS's scenic New York Street back lot. The event provided more than 50 exciting and unique opportunities to bid for Silent Auction items. Proceeds from the auction were to benefit NLGJA's educational and student programs.
For 14 years, NLGJA has hosted a national fundraising event in New York that attracts top-tier journalists as speakers, and celebrates the diversity of newsrooms and of the community at large. The success of the New York event inspired the Los Angeles Chapter of NLGJA to bring the excitement to the West Coast center of the entertainment industry, and commemorate the 40th Anniversary of the Stonewall Riots by setting this event in "New York City" on the New York City Backlot at CBS Studios. The NLGJA Los Angeles Chapter President is Emmy Gonzalez. The NLGJA Benefit Committee included Kevin A. Berry, Scott Dill, Scott Gutman, Allen J. Levy, Ken Miguel and Ray Bradford.
NLGJA
The Founded in 1990, NLGJA is an organization of journalists, media professionals, educators and students working from within the news industry to foster fair and accurate coverage of LGBT issues. NLGJA opposes all forms of workplace bias and provides professional development to its members. Headquartered in Washington, DC, NLGJA's professional staff handles the day-to-day operations of the association.
Eye on Entertainment
"Eye on Entertainment", a division of Eye on Excellence™ Productions, is a high-energy, high-impact television program focusing on extraordinary individuals and the entertainment industry. The show is aired on Time Warner Cable in Orange and Los Angeles Counties, and covers entertainment events and awards shows and features powerhouse interviews with successful people in all walks of life, exploring the traits that they have in common. Dawna Lee Heising is the executive producer and host of EOE. Dawna is also Ms. Universe Ambassador 2009 and is a long-standing member of the Screen Actors Guild (SAG). The show is produced and directed by John Aldesek, who is also the unit production manager on Robert Michael Conrad and James Nestor movie productions. The EOE photographer is David McNeil, a business executive and Mensa member who helped develop Pay-per-View and formerly worked for United Artists Cable.
###
Contact
Eye on Entertainment
Dawna Lee Heising
(714) 390-7122
www.EyeonEntertainment.tv

Contact