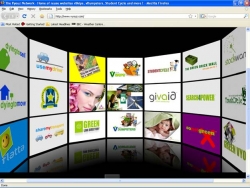 New York, NY, May 21, 2009 --(
PR.com
)-- The Vyouz Network have now completed their latest upgrade and platform developments which will enhance and accelerate reuse and recycling.
Existing freecyclers and other free use organizations can now use the system to promote and encourage other members of the public to share their unwanted belongings and load them up onto the internet for others to use.
People from many other organizations are joining free to use websites to enhance their ability to reuse as a way of life.
With the ever-increasing network of green websites hosted by Vyouz, - with which they have already been likened to the "Facebook of reusing and recycling" provides enormous social networking opportunities to promote a greener way forward.
Meanwhile, the latest project is cabbageeggs.com which promotes the use of local produce and encourage the swapping of items such as vegetables, eggs and even homemade beers and wines.
When asked what the future holds for The Vyouz Network the guys involved said "we've got loads more eco ideas that we want to develop including a local transport sharing scheme and GivAid.org - a charitable idea to help people find assistance in times of need."
"We are very excited with the response from everyone and proves that our ideas help all those that care about the environment" said another.
For more information and a comprehensive list of free reuse websites available, visit www.vyouz.com
###