New Book Helps Accident Victims Protect Their Rights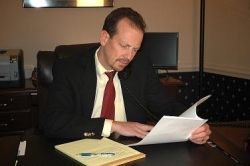 Louisville, KY, May 26, 2009 --(
PR.com
)-- Louisville personal injury attorney Michael A. Schafer has published this book to give accident victims vital information that will level the playing field with the insurance industry. This book not only defines the elements of a personal injury case it also outline actions an accident victim needs to avoid to get the settlement they deserve.
"As a personal injury attorney I have had many clients cheated out of deserving settlements because of various loop/potholes" says Schafer. "Immediately after an accident is when the victim is most vulnerable and can easily make an error in judgement or an uninformed decision that could cost them money in the end."
• Motor vehicle collisions are one of the leading preventable causes of death in the United States.
• Rear impacts caused 1,824,000 crashes, 29.6% of all US crashes, 5.4 % of US fatal crashes
• Run-off-road collisions are responsible for 992,000 crashes, 16.1% of US crashes, 31.7% of US fatal crashes
"Mike Schafer is obviously extremely knowledgeable in this most complex and very sensitive area of the law. The information contained within this book will certainly assist anyone who is considering pursuit of a personal injury claim in Kentucky as it provides a very thorough and detailed explanation of the legal process. Mike-congratulations on a job well done!" is what Virginia attorney James R. Parrish says about Schafer's book.
Vaughan de Kirby, an attorney out of San Francisco said "Kentucky attorney Mike Schafer's new book "7 Potholes That Can Wreck Your Kentucky Accident Case" is simply a great book. If you or a family member has suffered an injury in an auto accident it can be a very difficult time. Mike has written a book that will help you protect yourself and your family from making a mistake that could prevent you from receiving the compensation you deserve. If you are a victim of an auto accident don't talk to an insurance adjuster or an attorney until you have this book in your hands. It is protection you must have!"
"Knowledge is power and my hope is that the information offered in this book arm the consumer on how to avoid seven of the most common potholes that can destroy your Kentucky accident case. No one should be re-victimized by insurance companies." says Schafer. "By having knowledge of the process and what to avoid the consumer will have a better chance of receiving a fair and reasonable result."
This book is published by Word Association Publishers and is available for $16.95 at Amazom.com. As a public service to the residents of Kentucky Mr. Schafer will for a short time offer free copies through www.mikeschaferlaw.com.
###
About Mike Schafer Mike opened his own law office in 1990. He now represents people who have been injured in car, truck, motorcycle, bicycle, pedestrian and fatal accidents, helping them through the maze of insurance law to assure they receive fair and just compensation for their injuries and other damages.
Book Details
Price: $16.95
Available: Amazon.com
Paperback: 106 pages
Publisher: Word Association Publishers
Language: English
ISBN: 978-1-59571-389-6
Contact Information
Yulee Triplett-Schafer
The Schafer Law Office
440 South Seventh Street, Suite 200
Louisville, KY 40203
(502)584-9511
yulee@mikeschaferlaw.com
Contact
The Schafer Law Office
Yulee Triplett-Schafer
(502)584-9511
mikeschaferlaw.com

Contact