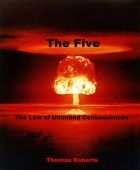 Phoenix, AZ, June 03, 2009 --(
PR.com
)-- "Although listed as science fiction, I believe it to be highly enjoyable to even those not usually drawn to the genre. Typically this classification brings to mind aliens and monsters from outer space...you get my meaning. The writing style in this book is very reminiscent of great authors that we know today. Take the late great Michael Crichton. Two of his works, Jurassic Park and the Lost World, both explore scientific advancements that may not be that far away on the horizon. Both the story and technical aspects were sound and thoroughly explained. Author Thomas Roberts accomplishes this within his work as well. I look forward to seeing more from this emerging talent. For more information on the author, visit fivethebook.com. Happy reading..."
Review by: Science Fiction or Science Fact?, May 14, 2009
By G. Reba (Panama City, FL)
This is just a small slice out of one of many reviews that continue to provide this novel five stars.
The Five is about using Artificial Neural Networks (ANN) to remap the brains of children so that they can be taught using electronic stimulus (Shocks). ANN code is introduced by two electrodes, one electrode equals "zero" and the other equals "one". The electrodes are then attached to the child's fingers. The method provides an effortless education and regardless of IQ or any of the many brain disorders children can be taught. Children with ADD, Dyslexia, Autism, Dyscalculia and even Down syndrome, will now be able to achieve a college degree. This method also eliminates the social inequities in our current educational system.
The Neuraldine Corporation is a software giant that is sponsoring "Project Five" and the research will begin with five(5) six month old babies. The project requires that there be no maternal or paternal influences. The children are each assigned a number as a name. Number One is a white male child that suffers from Down syndrome. Number Two is also a white male child. Number Three is a white female child. Number Four is a Hispanic male child and Number Five is a black female child. All of these children were born in the same month and year.
Neuraldine's Project Five was developed by one of the worlds top Neurologist and a group of the best Artificial Neural Networks programmers.
So what went wrong?
This excerpt from The Five might allude to what went wrong. While addressing a group of scientist, Dr. Eleanor McKinney, Psychiatrist, makes the following statement:
"Imprison a child from the time it is six months old. Give that child a single identifier, a number. Prevent the child from establishing any form of self-identity. Deny this child maternal or paternal nurturing. Now, push terabytes or petabytes of information into this child, information that it cannot possibly comprehend because there is no one there to explain it. You ask what kind of personality this child might have. I believe the word Psychotic might be the best way to describe this child's personality. Alternatively, for those who would prefer a less clinical and a more dramatic description, we are looking at a monster. In this case, five monsters."
About The Author
Thomas Roberts' background is vast and varied starting with a tour in Plieku, Vietnam where he was assigned to the Army's Criminal Investigation Division. From there he was a civilian police officer and homicide detective. Having retired from law enforcement Mr. Roberts went to work for an International Industrial Corporation. While working for the chemical corp., he started a Environmental Consulting Company which evolved into a manufacturing company building Industrial Waste Water Treatment Plants. Mr. Roberts' educational background is as vast and varied as his career background, including Computer Sciences, Electronics and Administration of Justice. Thomas Roberts is a new author and chose to self-publish this novel. Mr. Roberts states that he is presently working on distribution to booksellers and will soon be featured in several wholesale catalogs. The Five is currently available at Amazon.com and fivethebook.com.
Title: The Five ISBN10: 1442126418 Price: $9.99
Author: Thomas Roberts ISBN13: 9781442126411 Bar Coded: Yes
Publisher: Createspace/Amazon Photographer: Cover Image provided by The United States Dept of Energy
Number of Pages: 292 Size: 8.5" X 5.5" Soft Cover
###