Graco Inc. Launches New 4500 psi Hydra-Clean Pressure Washer
The Hydra-Clean 4500 psi pressure washer is designed for heavy duty cleaning of large equipment and facilities.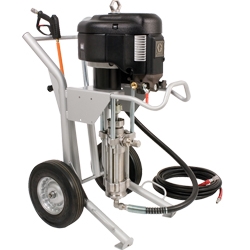 Minneapolis, MN, June 12, 2009 --(
PR.com
)-- Graco® introduces the 4500 psi Hydra-Clean® Air-Operated Pressure Washer, a quick, easy and efficient method to clean the toughest environments. Featuring Graco's NXT air motor, it is designed to handle heavy duty cleaning on oil rigs, shipyards, tank farms, chemical plants, heavy construction equipment and transit systems, as well as in food processing and industrial facilities.
"With the 4500 psi Hydra-Clean pressure washer, Graco is meeting the demands of customers who have wanted a more powerful machine for big cleaning jobs," says Kellie Momchilovich, Product Marketing Manager, Industrial Products Division, Graco Inc. "Operators will notice increased efficiency in air and water consumption, saving them time and money." The Hydra-Clean also carries a safety benefit because there is a limited risk of sparking, unlike gas or electric pressure washers. The fluid section contains stainless steel wetted parts and PTFE packings - handling the most aggressive cleaning materials in temperatures up to 200°F.
Hydra-Clean packages are also available in maximum fluid pressures of 1250, 2275 and 3065 psi with flow rates ranging from 4.6 to 9.2 gpm. Wall mounted and cart mounted units are available and all packages support multiple guns.
Graco pressure washers are designed to outperform and outlast other pressure washers in their class, and are backed by Graco's reputation for durable and reliable products.
About Graco Inc.
Graco Inc. supplies technology and expertise for the management of fluids in both industrial and commercial applications. It designs, manufactures and markets systems and equipment to move, measure, control, dispense and spray fluid materials. A recognized leader in its specialties, Minneapolis-based Graco serves customers around the world in the manufacturing, processing, automotive, construction and maintenance industries. For additional information about Graco Inc., please contact a Graco representative 877-844-7226.
###
Contact
Graco Inc
Janet Heupel
1-877-844-7226
www.graco.com
jheupel@graco.com
612-623-6504

Contact