Luxury Apartments Are Looking Very 'Architectural Digest'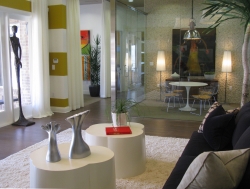 Atlanta, GA, June 12, 2009 --(
PR.com
)-- Let's be clear – Atlanta's new 5 East, wants you and it is doing everything it can to entice you.
This complex is not what you would expect from an apartment community. This chic urban oasis is progressive, new and fresh; mixing modern design with the look and feel of an upscale resort and spa.
Developed by Pollack Partners, and designed by award-winning design firm Beasley & Henley Interior Design, 5 East's is one of the new, unique urban environments enticing renters with over-the-top looks and amenities.
This cool, urban lifestyle has quickly become the norm in apartment living. Today's apartments have granite, marble and other high-end finishes and cabinetry. You can find stylized coffee bars, gourmet kitchens and movie theatres to name just a few of the upscale amenities.
For 5 East, Beasley & Henley had to pull out all the stops to differentiate this project from its high-style competition. Glass-enclosed rooms, stained concrete floors, bold artwork, sculptures, and sleek, draped walls were just the beginning of the creative enticements that the designers developed.
In this and other projects the furnishings are also key. They are fresh and funky – looking more 'Architectural Digest' sophisticated than boring old rental apartment.
"The rental apartment community has been growing to this point for the past few years," says Troy Beasley, Design Principal of Beasley & Henley Interior Design. "But it is ramping up more now and really starting to get interesting!" he says with a broad smile.
###
Beasley & Henley Interior Design is a 15-year-old interior design firm, specializing in Luxury Interiors, Exclusive Residences and, Interior Architecture. Their work has been featured in regional and national publications and their awards are numerous. Beasley & Henley's award winning design and architectural detailing can be seen throughout Florida and across the country. Visit our on-line portfolio at www.beasleyandhenley.com.
Contact
Beasley & Henley Interior Design
Stephanie Henley
407-629-7756
www.beasleyandhenley.com
blog.beasleyandhenley.com

Contact