New Patent Opens New Avenues for Petroleum Hydrocarbon Remediation
Current research firmly overrides previous scientific belief that petroleum and other aromatic hydrocarbons do not respond to anaerobic decontamination. A recent patent license agreement between EOS Remediation and the full-service global consulting firm Delta Consultants adds a highly effective approach to EOS Remediation's stable of anaerobic bioremediation products, providing customers an innovative, cost-effective solution for petroleum hydrocarbon remediation.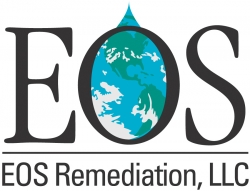 Raleigh, NC, July 16, 2009 --(
PR.com
)-- EOS Remediation and Delta Consultants have signed an exclusive patent license agreement, giving EOS exclusive rights to manufacture, use and sell Delta's sulfate-enhanced technology for in situ remediation of contaminated groundwater. The patent includes a process for using high concentrations of sulfate to stimulate biodegradation of petroleum hydrocarbons (PHCs) other aromatic hydrocarbons and other contaminants susceptible to sulfate-reducing bacteria.
"This sulfate-based technology holds terrific promise for EOS customers facing the tough contamination challenges related to PHC and other hydrocarbons," says EOS Remediation Director Gary Birk. "It has been remarkable to see the shift in scientific thinking on anaerobic remediation of sites contaminated with aromatic hydrocarbons. Not only does current research prove the effectiveness of the approach, but field studies demonstrate that sulfate-based bioremediation may be the preferred approach for PHC decontamination of groundwater. EOS Remediation is pleased to be the exclusive supplier of Delta's new technology."
A recent British Petroleum/EPA study has concluded that most hydrocarbon plumes are anaerobic and depleted of sulfate. Other studies have drawn comparable conclusions. A remediation feasibility study for a former gasoline service station in Kalamazoo, Michigan identified sulfate-based decontamination as a first-line strategy for reclaiming the site and addressing threats to the municipal drinking water supply. Delta's sulfate-enhanced technology – now marketed by EOS Remediation under the name EAS™ – was the chosen product for the project.
EAS™ stimulated biodegradation by providing a soluble, readily available electron acceptor. In the presence of elevated sulfate, anaerobic groundwater bacteria use the PHCs for carbon and energy while mineralizing the hydrocarbons to carbon dioxide and water. In addition, sulfate reduction consumes protons, which increases site pH and enhances methanogenesis. The reaction results in complete degradation of the BTEX components. Ongoing project results indicate that the EAS™ technology can cost-effectively turn land once deemed unusable into productive real estate.
"This license agreement with Delta enables us to expand our strong foundation of intellectual property," says Birk. "Working with the outstanding scientists and engineers at Delta will provide us more design freedom as we develop the next generation of bioremediation technologies and solutions to meet the demands of this ever-expanding environmental sector."
About Delta Consultants
Delta Consultants is a full-service, global consulting firm providing innovative and sustainable environmental, health and safety (EHS) solutions for multinational clients. Delta has 42 offices across the U.S. As an Oranjewoud N.V. Company, Delta, together with Oranjewoud, offers multinational EHS consulting capabilities with more than 3,300 employees. In addition Delta provides the diversity, strength, and global capacity of over 4,400 consultants in 145 offices on 6 continents through the Inogen Environmental Alliance. In 2008 Delta provided services to its clients in over 42 countries around the world.
About EOS Remediation
EOS Remediation offers a family of proven, bioremediation products that lead the industry by being scientifically researched, independently validated and consistently achieving on-site success. By allowing science to lead product direction, EOS Remediation has been – and remains – the cutting-edge provider of bioremediation products. Our suite of products promotes biotransformation of contaminants into non-toxic end products. EOS Remediation scientists, who are known worldwide, actively participate in product advancement and are routinely involved with client projects. EOS Remediation combines an excellent product with responsive customer service to further ensure superior performance.
###
Contact
EOS Remediation, LLC
Gary M. Birk
919.873.2204
www.eosremediation.com

Contact