New Firm Offers Online Education for Entrepreneurs - Teams Up with Kauffman Foundation to Promote Entrepreneurial Mindset Program
The Entrepreneurial Learning Institute (www.elientrepreneur.com), a world leader in the field of entrepreneurship education, training and development, releases an online learning program designed to foster entrepreneurial thinking in classrooms and communities across the globe.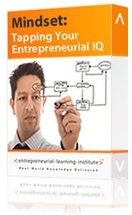 Cleveland, OH, July 30, 2009 --(
PR.com
)-- Based on interviews with more than 150 successful entrepreneurs including Craigslist founder Craig Newmark, E-Myth author Michael Gerber, Inc 500 winner Chuck Halberg and many others, Mindset: Tapping Your Entrepreneurial IQ provides and inside look at the underlying beliefs and the behavior that enables entrepreneurs to recognize opportunities and marshal the resources that enable them to succeed.
"In today's economy, more and more people are becoming entrepreneurs. Yet many startups fail because they lack the knowledge and insight that only experienced entrepreneurs can provide." ELI founder and CEO Gary Schoeniger explains, "Entrepreneurs have valuable knowledge that can be difficult to convey in a textbook and hard to find in a classroom. Our multi-media learning platform enables us to deliver the firsthand knowledge and experience gathered from a wide variety of successful entrepreneurs in an engaging, easy-to- use and cost-effective format."
ELI's first offering, Mindset: Tapping Your Entrepreneurial IQ, has already gained the attention of Entrepreneurship.org; an online community built by the Kauffman Foundation to serve the many diverse needs of entrepreneurs.
"This first module from ELI is an excellent tool for aspiring entrepreneurs to take a deep self assessment of what it means to venture down the entrepreneurship path" stated Kauffman Director of Entrepreneurship; Thom Ruhe. "I am looking forward to the new modules coming online soon, further guiding entrepreneurs as they take this journey," Ruhe concluded.
The Entrepreneurial Learning Institute has emerged as a world leader in the field of entrepreneurship education, training and development. Through a partnership with The Cisco Entrepreneur Institute, ELI provides education and training programs designed to foster innovation and entrepreneurship in classrooms, communities and organizations across the globe. ELI is also working with WVIZ/PBS in Cleveland to provide an interactive distance-learning program that will enable high school students to interact with and learn from a variety of successful entrepreneurs.
###
Contact
The Entrepreneurial Learning Institute
Gary Schoeniger
216 780-9417
elientrepreneur.com

Contact