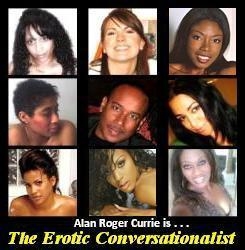 Hollywood, CA, July 30, 2009 --(
PR.com
)-- What do authors such as Zane, Maya Banks, Shayla Black, Violet Blue, Lora Leigh, Mary B. Morrison and Alison Tyler all have in common? They are very popular erotica novelists who each have a very large and devoted female fan base.
When it comes to sex as entertainment, erotica is just as appealing to women as adult films are thought to be for men, if not more so. "Women love for erotic intimacy to be presented within the context of an interesting storyline with well developed characters, unlike porn which is just in-your-face sex between no-name, anonymous men and women," says Alan Roger Currie, author of the popular paperback, 'Mode One: Let the Women Know What You're REALLY Thinking,' as well as the Host of a new adult-themed podcast series entitled, "The Erotic Conversationalist."
"I read a newspaper article in USA Today just after Valentine's Day of 2006 about the popularity of erotica novels among women. It was really enlightening. Many women can't put those books down," added Currie, who recently interviewed Diana DeVoe, the first African-American Female Director in the Adult Film Industry on his premiere episode of 'Conversationalist.'
Next up for Currie is an interview and discussion with up-and-coming Actress Laila Odom, who stars in Zane's wildly popular late-night 'After-Dark' series on Cinemax, "Zane's Sex Chronicles." Zane has become not only an erotica legend among an African-American audience, but these days, her unique first name has almost become synonymous with hot and steamy erotic storylines among a widely diverse fan base.
Odom plays the character of 'Ana Marie Hawkings' on 'Chronicles,' which highlights the love lives and sex lives of five primary characters. The show is produced by Suzanne De Passe and similar to 'Sex and the City,' presents sexual stories from the female perspective.
Currie, who also is the Host of a talk radio show entitled "Upfront & Straightforward with Alan Roger Currie" on the BlogTalkRadio Internet Radio Network, decided to produce his new podcast series after many of his female friends and acquaintances encouraged him to reveal more of his sexually provocative and erotically explicit conversational style for the general public.
"I have a friend named Alexyss K. Tylor, and she has frequently criticized me for being too 'PG-13' on my normal radio show. So she, along with dozens of other female friends I'm acquainted with, urged me to start a new show that would combine intelligent questions and informative, enlightening conversations related to sex and eroticism with elements and undertones of a flirtatious phone sex conversation .... and the end result is 'The Erotic Conversationalist'," said Currie.
Each podcast episode will be available as a downloadable mp3 file from Currie's Mode One Multimedia website.
For more information, visit
http://www.modeone.net/podcasts
###