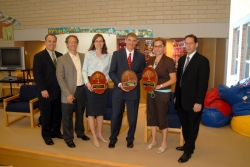 Bloomington, IN, August 11, 2009 --(
PR.com
)-- In a ceremony recently held at Chicago's first LEED-certified public school, Tarkington School of Excellence, Stephen Ashkin, president of The Ashkin Group and the professional cleaning industry's leading advocate for Green Cleaning, presented awards to two key government agencies that have shown leadership and strong commitments to protecting human health and the environment.
Honored as Ashkin Group Green Cleaning Champions are:
• The U.S. Environmental Protection Agency's Design for the Environment, Environmentally Preferable Purchasing and Tools for Schools programs
• Illinois Governor Pat Quinn and Representative Karen May.
Accepting the award for the EPA was Dr. Peter Gravett, who is the Director of the organization's Office of Children's Health Protection. "Over the years, EPA has developed numerous programs to help identify more environmentally preferable products and improve schools and other buildings," says Ashkin. "They have helped create a foundation for Green Cleaning throughout the country."
Kate Tomford, the Director of Sustainability for Governor Pat Quinn, accepted the award on behalf of the Governor. According to Ashkin, the Governor has played a leadership role, promoting healthy and sustainable schools for many years.
"It was Governor Quinn's office that stepped forward to help the Healthy Schools Campaign introduce and promote the Illinois Green Clean Schools Act," Ashkin says. "And, it was Kate who led the Green Government Coordinating Council on an open stakeholder process to [help] develop regulations to implement the act. This important legislation has now become a model for other states."
Illinois State Representative Karen May also received an Ashkin Group Green Cleaning Champion award for her work to champion the Illinois Green Clean Schools Act through the legislative process.
The Healthy Schools Campaign and ISSA, the cleaning industry's largest association, are previous recipients of the Green Cleaning Champion award.
"The contribution these people have made, protecting the health of children, is unparalleled," says Ashkin. "They are worthy recipients and without question, Green Cleaning Champions. We thank them for their commitment and all they have done and accomplished."
Photo Caption: Rochelle Davis, Executive Director of the Healthy Schools Campaign; Mark Bishop, Deputy Director of the Healthy Schools Campaign; and Bill Balek, Director of Legislative Affairs for ISSA.
###