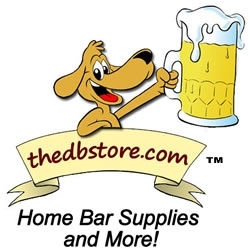 West Hills, CA, August 12, 2009 --(
PR.com
)-- The DB Store (
www.thedbstore.com
), an online store offering premium home bar supplies including beer and wine fridges, pub glasses, beer and wine accessories and more, partners with Draft Magazine to offer subscribers special savings with any purchase from thedbstore.com.
"We're thrilled to partner with DRAFT Magazine," commented co-founder David Dolan. "Draft Magazine along with its online community encompass a level of appreciation for beer and wine that we admire."
DRAFT Magazine, a consumer lifestyle magazine highlighting the craft brewing industry, is offering their subscribers a special15% savings off any purchase from thedbstore.com throughout the month of August. In concert with this offering, thedbstore.com is offering all DRAFT Magazine subscribers a free, authentic pint glass with any purchase.
Trevor Cravens with DRAFT added, "This was a great opportunity for DRAFT to partner with a store that offers premium goods to help our readers enjoy their beer passion the right way."
Visit
www.draftmag.com
for further details.
About TheDBStore.com
Launched in 2009, thedbstore.com is an online store offering premium home bar supplies including beer and wine fridges, pub glasses, wine accessories, beer accessories and more. For beer and wine novices to avid enthusiasts, co-founders David Dolan and Michael Murphy created thedbstore.com with the commitment to offering the best customer care and carrying only the highest quality home bar supplies at competitive prices. TheDBStore.com takes pride in that anyone can order from the store knowing the products they receive will be the ones you need to be a successful host or hostess.
About DRAFT Magazine
DRAFT Magazine is a beer enthusiast's guide to the universe. DRAFT explores everything from the little known pub down the street to selective breweries here and abroad, as well as travel, sports, food, gaming, technology, entertainment and everywhere people enjoy beer. In-depth features explore the lifestyle of the beer enthusiast, together with beer reviews, beer and food-pairing tips, bar round-ups, celebrity interviews, and more.
###