Halong Bay- Vietnam
Aurora Travel has long understood the magic of the Bay of Halong and has always stressed the need for travelers to discover its reality. Today, if offers no less than a dozen tours to this fascinating and legendary haven, dubbed the 'Bay of Descending Dragons.'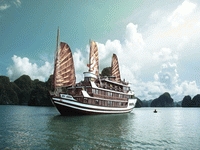 Hanoi, Vietnam, August 14, 2009 --(
PR.com
)-- Aurora Travel has long understood the magic of the Bay of Halong and has always stressed the need for travelers to discover its reality. Today, if offers no less than a dozen tours to this fascinating and legendary haven, dubbed the 'Bay of Descending Dragons.'
Existing tours can be viewed by clicking on these hyperlink:
http://www.vietnamstay.com/tour/halongtour.htm
In June of 2009. Aurora Travel hosted a (FAM) familiarization trip for Spanish journalists in Vietnam, which included a trip to the magical Bay of Halong. This in turn, resulted in Oscar articles focusing on the Bhaya Cruises which are offered in the aforementioned menu.
Optimally, the traveler will want to select an overnight cruise, and if time permits, then choose the two nights for maximum relaxation in surroundings which have earned the prized UNESCO world heritage designation.
The luxurious junks used by Bhaya Cruises are designed to yield an authentic Oriental experience without neglecting twenty-first century comfort. With a choice of three junks, the Bhaya Classic, the Bhaya Legend or the Bhaya Spirit, Aurora Travel guarantees that the experience will touch the innermost corners of the spirit.
A little bit about the legend: Long ago, in its beginnings as a nation, Vietnam faced foreign aggression. The Emperor Jade sent the Mother Dragon and her children to help the Viet people fight the invaders. As the enemy ships launched their attacks against the mainland, the dragons descended in masse from the skies. From their mouths flew thousands of pearls which turned into into jade stone islands the moment they hit the water. These islands linked together to form firm citadels that checked the enemy's advance and smashed their vessels to pieces. Once the invaders were driven out, the Mother Dragon and her children remained on earth exactly at the site of the battle. Thus, the creation of Halong Bay.
A little bit about the cruise: junks normally leave the dock around lunchtime and begin gliding through the emerald waters of the bay allowing for full view of towering limestone formations, carpeted with vegetation. Some of these limestones have earned nicknames for their resemblance to certain animals. There will be visits inside grottoes, kayaking, swimming, - and for those who do not wish do disembark, they can indulge in on board amenities such as beauty spa services, cooking classes, tai chi classes, or simple relaxation and meditation on deck. Accommodations are first class with the inimitable Vietnamese touch.
Contact Aurora Travel for more information.
###
Contact
Aurora Travel
Hoai Van - Sale Manager
+844 3747 2597
www.vietnamstay.com

Contact