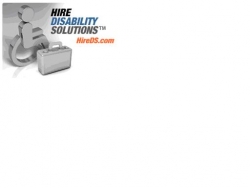 Paramus, NJ, August 17, 2009 --(
PR.com
)-- Yesterday, 27,256,000 disabled Americans had no job.* Today, Hire Disability Solutions™ placed 16 disabled individuals in jobs. Only 27,255,984 to go. Hire Disability Solutions is committed to seeing that every person with a disability finds employment. "Our mission at Hire Disability Solutions is to give all who want a chance to succeed, the opportunity to succeed," said Jeff Klare, CEO of Hire Disability Solutions.
No more do disabled workers have to feel alone in a job search. No more do companies have to wonder if they are doing the right thing for their employees, potential employees, and their bottom line. Hire Disability Solutions has years of expertise in corporate consulting on these issues and bringing qualified disabled professionals into view for their many skill sets.
Some may be surprised to learn that 10% of the world's population, or 650 million people, live with a disability. Hire Disability Solutions, the leader in disability employment, embraces challenges and transforms them into career opportunities through
www.hireds.com
for those who are disabled. Their goal is to educate and connect all disabled candidates with employers nationwide that value their experience and skills. HDS was founded in response to the increasing demand for employment services for individuals with disabilities. Since its inception in 2004, Hire Disability Solutions has established itself as a national leader in enhancing employment opportunities for individuals with physical, emotional, and cognitive disabilities.
Should companies be doing a better job at including people with disabilities? Do they even know the law or individuals' rights in this regard? Hire Disability Solutions offers a variety of consulting services to help. HDS has disability diversity training expertise and can provide the optimal consulting services to meet an organization's individualized needs.
* United States Department of Labor, Bureau of Labor Statistics, June 2009
###