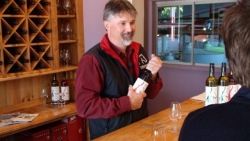 Sydney, Australia, August 27, 2009 --(
PR.com
)-- AR Cash Flow is successfully helping small businesses discover creative financing that does not involve going through lengthy bank procedures or sacrificing ownership each time they need cash.
Their latest success is with Yarraman Estate Wines in Upper Hunter Valley, which is pleased to have discovered this new financing method – factoring or 'invoice financing', to overcome its cash woes this week. In an investment intensive industry that is seasonal, Yarraman Estate Wines is now using invoice factoring, a debt-free financing method that can help it tide over the cash crisis that is inevitable each year.
While Factoring or invoice financing is not a new concept, quite a few businesses are only just discovering how advantageous it can be to their survival. Invoice financing works by using the business's assets, namely accounts receivable, to generate the cash or working capital that is so essential to meet various operational expenses.
Chief Winemaker, Yarraman Estate Wines, Ian Long remarks, "Since the winery processes grapes for only about 5 or 6 weeks a year, a lot of money is tied up in machinery and inventory. We cannot do without the equipment that is both expensive and specific to our industry. That's when AR Cash Flow and invoice financing came to our rescue."
According to Daniel at AR Cash Flow, "We believe in helping small businesses grow by giving them working capital that comes from within the business. A business can best achieve its goals when it does not have to worry about getting into debt each time there is a cash crunch. In fact, we only work with a limited number of clients at any point in time and ensure that they benefit from our services"
For Yarraman Estate Wines, most of their sales are from their winery in Upper Hunter Valley with their clientele comprising of hotels, clubs, restaurants and independent bottle shops. They work through a distributor to enable national distribution. Customers can also purchase from Yarraman directly via cellar door or order over the phone.
Currently, their winery is almost 90% full as they have just come out of vintage. This is also their peak inventory holding time. Since grape processing is done only for five to six weeks in a year, and the business cannot do without specialized equipment and machinery, Yarraman was concerned about raising the capital for this season.
Someone who wants to enter the wine industry must be prepared to make huge investments in equipment, apart from being aware that the return on this investment is low. Added to this is a huge investment in inventory, since offshore customers are mostly on open credit. AR Cash Flow has helped Yarraman access the cash invested through invoice financing.
Daniel from AR Cash Flow observes "Outside the processing season, Yarraman's machinery just sits there doing nothing for the rest of the year and most of the money is tied up in this. Another major challenge for the wine industry is that most suppliers want their payments within 30 days, while customers want anything from 60 to 120 days credit, depending on whether they are domestic or overseas. That is why invoice finance is the ideal way to access cash and keep that cash flowing through the business."
With invoice financing, just about any business can make sure that it can access cash from its own operations without the fear of debt.
About AR Cash Flow
AR Cash Flow focuses on helping small businesses grow and increase their profits by delivering them working capital supported by the business itself. They believe in low client turnover and customer retention to ensure that customers benefit in the long term.
For more information please contact:
Daniel Dunsford
Director
AR Cash Flow
Address: Office 1 / 700 Military Road Mosman NSW 2088
Phone: 02 9960 7933
Email: daniel@arcashflow.com.au
Website: www.arcashflow.com.au
###