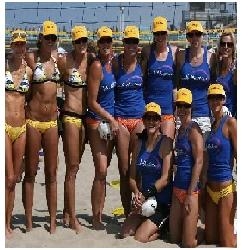 El Segundo, CA, August 19, 2009 --(
PR.com
)-- Paul Martin's American Bistro is the proud sponsor of this year's winner of the Charlie Saikley Beach Volleyball Tournament Women's Open. Held in Manhattan Beach, the six-man / six-woman tournament was part of the 2009 International Surf Festival which took place July 31 through Aug. 2, 2009.
"Congratulations to the Paul Martin's American Bistro team. You did us proud," said Mark Evensvold, operating partner of Paul Martin's American Bistro. "We were excited to support the winning team and this great community event."
As one of the most popular events during the Festival, the beach volleyball tournament draws crowds of thousands who watch 200 teams serve, dive, set and spike in the sand. The Paul Martin's American Bistro team started their journey to the title on Saturday where they were undefeated in all four of their matches. In the final round on Sunday, the team played seven tough games and earned the coveted title of champion and bragging rights on the beach.
Diane Copenhagen, a stellar player from USC and hostess at Paul Martin's American Bistro, played on the winning team. She is also currently on the AVP tour. Joining Copenhagen on the champion team were other AVP players, Nancy Mason, Carrie Dodd, and Leanne McSorley, Pam Lewis, Jennifer Castillo, Jenny Fix, Jenny Boehle, Chrissy Martin, Julie Deckert, Lindsay Lawrence, Whitney Pavlik, and Lisa Zimmerman.
The Charlie Saikley Beach Volleyball Tournament, named after a man known as the 'Godfather of Beach Volleyball,' is a wildly popular and extremely competitive tournament. The six-man tournament attracts players of all skill levels and is open to both amateur and professional teams. Its final round matches have earned legendary status in the South Bay area with over 10,000 spectators and hundreds of participants.
About Paul Martin's American Bistro
Paul Martin's American Bistro opened fall of 2007 and delivers primarily local, all-natural and organic fresh fruits, vegetables, meats and poultry. The menu is comprised of wholesome dishes that are served in the stylish rusticity of this back-to-the-farm bistro. For more information about Paul Martin's American Bistro, call (916) 783-3600
###