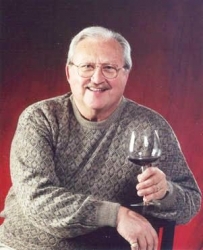 Las Vegas, NV, August 31, 2009 --(
PR.com
)-- Les' Wines & Vines, the nationally syndicated radio wine broadcast that features a winery and 3 of its wines each week with a live audience at an upscale restaurant location in Las Vegas is celebrating its eighth year this week (Thursday evening September 3, 2009 from 7 to 8 PM Pacific).
Les' Wines & Vines is America's First wine show to have a live audience and actually taste three wines on-air during each broadcast. Join Les Kincaid for informative conversations with professionals from the world of wine and food. Les always presents his listeners with stimulating, pro-vocative information and great interviews or discussions with interesting, intelligent, knowledgeable guests all within the wine industry. Whether they are vintners, winery owners, Sommeliers or Master Sommeliers they can all talk about wine with authority. The scope of the show is international so expect to hear several guests from just about anywhere from around the world.
This anniversary special broadcast this week comes from Tommy Bahamas' Restaurant & Bar in Town Square on the strip in Las Vegas.
Featuring wines from Paso Robles , California. Norman Family Wines and Les' special guest is the GM/winemaker Steven Felton.
To create an environment where people who love wine and food can share their experiences, knowledge and passion on all aspects related to the noble grape. There is no non-sense or snobbish attitude when you listen to Les Kincaid while he discusses wines from anywhere around the world. Always offering information you want to and likely should know. The list of provocative topics goes on and on. If you love good food and great wines, you'll love this weekly program.
What's Hot and What's Not? Tasting wines, pairing wines with food, storing wines, selecting wines or even the pricing of wines in restaurants or at retail. They'll also discuss problems in growing grapes and the problems some wineries, winemakers and grape farmers have producing great product and then offer it at reasonable prices. Les' Wines & Vines longevity has to be a testament to the durability, resiliency and flywheel effect of the nation and the world's quest to learn and enjoy more wine. Wine is food.
Although Les is now heard in all 50 states across this nation, and around the world on three internets live, there are still some cities where his programs can not be heard. If your favorite talk station doesn't carry Les' Wines & Vines please help them by telling that station, "I want Les Kincaid!" Your request can really make a difference! Happy Anniversary and don't miss the opportunity to listen to the incredibly popular Les' Wines & Vines premier radio every Thursday evening on Cable Radio Network at: www.crni.net.
###
Media Contact:
Les Kincaid
Les Kincaid Enterprises, LLC
702-871-5145
P.O. 81407
Las Vegas, NV 89180-1407
http://www.leskincaid.com