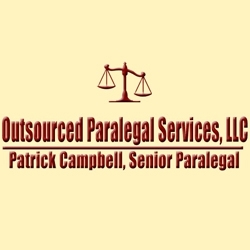 Plainview, NY, September 03, 2009 --(
PR.com
)-- Outsourced Paralegal Services, LLC a company specializing in providing Chapter 7 and Chapter 13 consumer
bankruptcy petition preparation
and other relevant support services to attorneys has identified a direct correlation between chronic illness and medical bills, and filings for Chapter 7 & 13 bankruptcies throughout the Unites States.
According to Outsourced Paralegal Services President and Bankruptcy Paralegal, Patrick Campbell, "Our firm has prepared several hundred bankruptcy petitions for attorneys in the past year. I can corroborate the unsettling fact that approximately 65% of the consumer bankruptcy petitions that have come across my desk this year are for people who have, or who are still dealing with a chronic illness with medical bills in the thousands, and in some cases the tens of thousands of dollars. This is no longer simply something I read in the newspaper or watch on CNN. I have seen it in black and white first hand."
In an article published in 2006 by Aparna Mathur, a research fellow at The Enterprise Institute for Public Policy Research (www.aei.org), there were similar findings to that of Outsourced Paralegal Services' current 2009 findings regarding medical bills and consumer bankruptcy filings with statistical results finding "nearly 27 percent of filings are a consequence of primarily medical debt, while in approximately 36 percent of cases medical debts co-exist with primarily credit card debts." This reaches a total of 63% which is right on par with the findings of Outsourced Paralegal Services who gives their current estimation at 65%.
According to a survey published in 2009 by Harvard Medical School researcher Dr. David U. Himmelstein in which he surveyed 1032 bankruptcy filers, the survey concluded that "approximately 62% of bankruptcies in 2007 were medical (cite www.pnhp.org or www.aei.org for findings)." This is another recent statistic which falls in line with that of
Bankruptcy Paralegal
Patrick Campbell's estimated findings.
"As long as healthcare remains the dysfunctional profit driven mess that it currently is, I do not see Chapter 7 and Chapter 13 consumer bankruptcy filings slowing down in the United States anytime soon," states Patrick Campbell, President of Outsourced Paralegal Services, LLC.
About Outsourced Paralegal Services, LLC
Outsourced
Paralegal Services
was created with the sole practicing bankruptcy attorney and the understaffed boutique bankruptcy law firm in mind. Outsourced Paralegal Services understands and appreciates the importance of conserving resources within a law firm, as well as the need for quality specialized bankruptcy paralegal services to support a firm's caseload.
Outsourced Paralegal Services provides law firms with the opportunity to outsource their workload to a senior level bankruptcy paralegal at half the cost of hiring a full time paralegal on staff. For more information please visit
www.outsourcedparalegal.com
.
###