CTXM Extends Freaky Slots Family with 3D Slots
CTXM, a leading developer of online gambling software and gambling platforms, has released two next-generation 3D slots in Freaky Slots Family.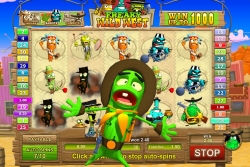 Riga, Latvia, September 10, 2009 --(
PR.com
)-- The Freaky Slots family has been extended with two new 3D slots – Freaky Wild West and Freaky Gym – with an extraordinary gaming atmosphere. Freaky 3D slots have unique gameplay thanks to their humorous storylines. The new slot series includes individual sounds and graphics, innovative, thrilling 3D effects and advanced bonus games. It's not only the game symbols that are animated: the characters, items in bonus games, interface components and backgrounds are all fully active. The new Freaky Slots 3D offering will be launched at the beginning of September, during the European iGaming Expo in Copenhagen.
This autumn, CTXM plans further extension of Movie Slots family with two more innovative 3D titles – Gangster Slots and Vampire Slots. These new 3D slots will take the gaming experience to a new level, offering even more realistic graphics and player immersion. View video presentation of new slots
here
.
Udy Yosha, CEO of CTXM, said: "For a very long time, iGaming industry has disregarded opportunities provided by 3D, viewing a typical player as an overly-serious cowboy, whose interest in gambling is limited to throwing coins into the "one-armed bandit" and pulling the handle. Now that 3D virtual communities have proved to be a vast area of activity, the industry has turned to developing interactive gambling worlds for people not only to play and win, but to communicate, compete, get awards and ranks, unite in teams, rejoice and grieve. Our next-generation 3D slots are a synergy of our diverse experiences in developing gaming solutions for platforms like XBox and iPhone, as well as casual games for PC, which allows us to produce solutions beyond traditional gaming."
About CTXM:
CTXM provides its clients with innovative, efficient turnkey solutions, including gaming foundation platforms, casino and fixed-odds games, turnkey gaming and payments solutions. CTXM develops gaming solutions for leading operators in the iGaming and eGambling industries. CTXM partners with leading game publishers and IP owners. Since 2004, CTXM has developed over 100 gambling applications, 20 titles for PC, XBOX Live and iPhone and has co-published over 100 casual game titles in Central and Eastern Europe. More information: www.ctxm.com
###
Contact
CTXM
Liva Krumina
+371 6780 1949
www.ctxm.com

Contact