Newtechbio Offers Bed Bug Mace (TM) Control Treatment for Residential, Hospitality and Commercial Application
Newtechbio, Inc. announced today that it has expanded its product offering line with the addition of Bed Bug Mace to control and get rid of bed bug infestations in residential, hospitality, commercial and industrial buildings.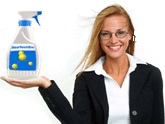 Forty Fort, PA, September 11, 2009 --(
PR.com
)-- Bed Bug Mace kits contain powerful EPA GRAS list ingredients along with EPA approved Diatomaceous Earth (DE) for immediate and extended control. A primary ingredient within Bed Bug Mace, Sodium Lauryl Sulfate (C12 H25 SO 4 Na), is an anionic surfactant used in many cleaning and personal hygiene products which also acts as a potent bed bug control and contact killer. An additional bed bug control compound, Diatomaceous Earth (DE), consists of ground diatoms which form a microscopic razor like substance, harmless to humans and pets, but deadly to insects. Crushed diatoms quickly cut through bed bug exoskeletons, leading to rapid dehydration and death. Bed Bugs can not develop immunity or resistance to DE which is essential for total long term eradication and future bed bug control.
Outside Field testing in several important markets in the 2009 season confirms Bed Bug Mace not only gets rid of bed bugs on contact, the main components also serve as a barrier which prevents re-infestation and colony growth via perimeter shielding utilizing diatomaceous earth. With proper application, the bed bug killer treatment completely barricades the user from encroaching bed bugs, even when connecting apartments or units remain untreated and infested.
"The kits contain more potent killing power than virtually any other total control solution available. There has been a overwhelming amount of positive feedback from existing clients boasting the capability of Bed Bug Mace to completely eliminate bed bugs regardless of where they are coming from – or where they hide. Bed Bug Mace kits utilize a triple pronged approach that, when combined, act as a superior solution providing a clean, bed bug free environment. The company selected a price point below similar products which is additionally enhanced by the inclusion of substantial amounts of bed bug control treatment, protection material and reoccurrence killing agents" remarked Brad Skierkowski, Business Development Manager of Newtechbio, Inc.
Bed Bug Mace kits are formulated and packaged in the USA and are available in various sizes for the control of bed bugs and other various insect infestations. For more general information on Bed Bug Mace Kits and to obtain complete information and label instructions, visit their website at www.bedbugmace.com
Servicing the residential, commercial and industrial sector, Newtechbio provides the highest-quality products and treatments designed to remediate and sustain problem conditions from mild to aggressive bed bug and insect infestation. Our products lines are technologically advanced to meet the harshest conditions whether you are seeking remediation of a studio apartment, hotel or any other area people congregate. Newtechbio, Inc. has the solutions covering all aspects of biological and chemical intervention. EPA approved and GRAS exempt solutions combine to assure top quality control regardless of desired results. We have the technical ability and staff on hand to engineer a solution that will meet the need of any residential or commercial treatment request. Our mission is clear - Satisfy our customer base and continued growth through solid service and accurate product-problem matching. Newtechbio, Inc. Strives to trump challenges regardless of the nature and difficulty.
###
Contact
Newtechbio, Inc.
Bradley Skierkowski
877-233-3183
www.bedbugmace.com

Contact