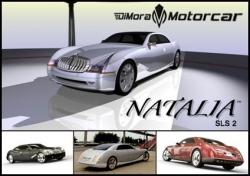 Palm Springs, CA, September 16, 2009 --(
PR.com
)-- Palm Springs entrepreneur Alfred DiMora, founder of the internationally acclaimed DiMora Motorcar, has been named honorary chair of the "Dennis Lambert - The Man Behind The Music" concert Nov. 14 to benefit DesertArc, event producer Bette King announced today.
"We are so honored to have Al chair our event because of his tremendous humanitarian support of DesertArc and as a champion of the developmentally disabled," King said.
For his commitment to finding cures for breast cancer and neurodegenerative diseases such as Alzheimer's, Parkinson's, and Huntington's, DiMora will be honored with a "star" on the Palm Springs Walk of Stars Nov. 15. Dennis Lambert, of Boca Raton, Fl. will also be honored with a "star" with DiMora in a joint ceremony at 11:30 a.m. in front of the historic Palm Canyon Theater on Palm Canyon Drive in Palm Springs.
DiMora will be attending the 8 p.m. concert at The Show at the Agua Caliente Casino, Resort and Spa in Rancho Mirage. This tribute to Lambert, a 12-time Grammy Award nominee, will feature entertainer Natalie Cole along with many of his musical friends, such as the Commodores, Player, Starship lead singer Mickey Thomas, Tavares, British singing star Elaine Paige, television-film star Connie Stevens and her daughters, actress-singers Joely Fisher and Tricia Fisher. Tickets are on sale for "Dennis Lambert - The Man Behind The Music" by calling (800) 585-3737. For priority seating, VIP packages and a gala luncheon, please call Bette King Productions at (760) 322-1411 prior to Oct. 10. Concert tickets are priced from $75 for balcony seats to $250 for box seats.
"I am delighted to participate in this celebration of the wonderful music that Dennis has created to enrich all of our lives," said DiMora. "I welcome this opportunity to join DesertArc in helping our neighbors with disabilities become full participants in our vibrant community. I encourage everybody to join us for a fun-filled weekend in support of an extremely important cause." DiMora lives in Palm Springs with his wife, Yvonne, and stepdaughter, Chanel, while his stepson, Josh, is serving in the U.S. Marine Corps.
DiMora produced two of America's finest luxury automobiles, the Clenet (as owner) and the Sceptre (as co-founder). When President Reagan declared 1986 the Centennial Year of the Gasoline-Powered Automobile, DiMora's Clenet was selected as the Official Centennial Car and both were honored at the Automotive Hall of Fame in Michigan.
DiMora founded Starbridge Systems, Inc., where he developed the world's fastest FPGA supercomputer. As an entrepreneur and business consultant, he has advised and built companies in industries as diverse as chemical recycling, public relations management, software development, television infomercial production, and real estate.
Today, DiMora is creating the four-passenger Natalia SLS 2 sport luxury sedan, powered by the 1200-horsepower DiMora Volcano V16 engine. It is scheduled for completion in 2010 and features technological innovations throughout.
King, a long-time friend of Lambert, is producing the "Dennis Lambert - The Man Behind the Music" concert to raise money for DesertArc, formerly the Foundation for the Retarded, the Palm Desert-based organization that serves the Coachella Valley's developmentally disabled.
Two-night VIP weekend packages are now available, starting at $1,050, including hotel accommodations for two, a gala luncheon, the concert and other events.
###