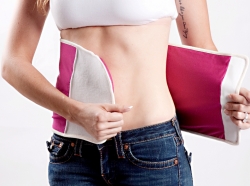 San Francisco, CA, September 21, 2009 --(
PR.com
)-- Simple, one size, and easy to use, new moms will love the support of the Flats belly band.
Flats Belly Wraps™, innovative designers of medical post-pregnancy compression garments, releases its post-pregnancy waist belly band product today, the Flats Belly Wraps waist cincher.
Providing a smooth and even support compression, these belly wraps help abdominal muscles return to their natural shape after delivery and/or weight loss. Flats Belly Wraps™ are available in a bikini style (abdominal area) or a full body style (hips, thighs, and abdomen), and now the waist belly band.
Flats Belly Wraps™ are designed to help shrink your post-pregnancy belly. Using patented fabric technology, Flats delivers the most effective and comfortable medical-grade postnatal compression garments available on the market. Their slimming garments are ideal for weight loss, post-pregnancy shaping or for those who simply want a strong and durable compression.
"Our products are not shapewear, they are compression garments," says head designer, Alicia Shaffer. "There is a distinct difference between the two from a construction and results standpoint. Shapewear's goal is simply to make you look better in your clothes. Flats compression garments not only make you look better by instantly slimming you up to 2 sizes, but truly offer weight loss and medical benefits," she continues. "Such benefits are reducing water retention, weight loss, cesarean incision healing, and muscle realigning, and helping to offer overall support to the recovering postpartum body."
Features of the Flats belly band include:
1. Slims your silhouette instantly
2. Helps to hide your post-pregnancy 'trouble' areas
3. Helps to reduce or eliminate the stomach "pooch"
4. Soft stretchy material that comes in one size to fit all body shapes and sizes
Flats Belly Wraps™ post pregnancy compression garments are truly unique. This belly wrap garment lineup delivers medical grade compression, utilizes patented soft and seamless fabric, quickly helps new mothers bounce back into shape, and are the first postnatal compression garments offering abdominal compression as well as, hips, buttocks and thighs.
With the addition of the new waist cincher belly band, Flats has a product for mom. The post pregnancy waist belly band will retail for $29 and is available for purchase at
www.FlatsBellyWraps.com
Flats Belly Wraps™ is an innovative post pregnancy compression garment design company. Our mission is to thoughtfully create durable, medical based, comfortable, and slimming garments fused with a fashion-forward style that reflects the attitudes of today's mom. wwwFlatsBellyWraps.com
Contact:
Media Department
888.88.FLATS
Press@FlatsBellyWraps.com
###