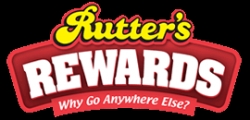 Highland Village, TX, September 21, 2009 --(
PR.com
)-- MetroSplash Systems Group, Inc, a leader in fuel-based loyalty solutions, announced today that Rutter's Farm Stores is raising the bar for convenience store loyalty with its launch of the Rutter's Rewards card. During the summer months Rutter's caused excitement with its "Fuel Up Free" contest, but now Rutter's is taking consumer rewards to the next level with a loyalty card program that will reward a fuel discount offering for their customers. Branding the program with the slogan "See the Icon, Buy the Product, Earn the Reward!"
Rutter's Rewards
will allow customers to earn cents-off-per gallon rewards on gasoline by purchasing any of more than 1,700 everyday items bearing a special display icon.
"With our customers' needs first and foremost, we knew there wasn't a better time to offer them an innovative loyalty program that really allowed them to save money during this challenging economy," said Jeff Leedy, Senior Vice President of Marketing and Chief Customer Officer at Rutter's Farm Stores. "This roll-out is the culmination of two years of internal strategic planning and program development."
Scott Hartman, President and CEO of Rutter's Farm Stores added: "Rutter's worked very hard to identify the best solution across its Radiant POS platform. Metrosplash was selected because it helped us deploy quicker and easier than some alternatives while meeting our many goals. Together, with our technology partners of MetroSplash and Radiant, we hope to add even more customer centric solutions in the future."
The
FuelLinks
loyalty platform is developed by MetroSplash Systems Group, located in Highland Village Texas. This solution is currently in place at more than 4800 brick and mortar locations including fuel centers, grocery stores, c-stores and community merchants along with 575 plus online retailers.
"Of course we are ecstatic to bring Rutter's on board with their rewards program powered by FuelLinks," said Steve Babick, CEO for MetroSplash Systems Group. "They have a long standing reputation for being a very customer-focused organization and this commitment only affirms their dedication to their customers."
About
MetroSplash Systems Group
Founded in 2003, MetroSplash Systems Group, Inc. provides a technology platform that enables businesses of all types to implement a supplier-integrated fuel-based consumer reward program (FuelLinks) or to monetize an existing affinity program toward the purchase of fuel. The company offers the financial settlement and Loyalty as a Service (LaaS) infrastructure to bridge between merchants (reward issuance) and fuel retailers (redemption). MetroSplash is located at 2300 Highland Village Drive, Highland Village Texas 75077.
###