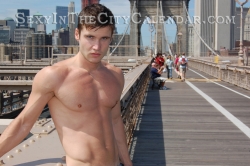 New York, NY, September 24, 2009 --(
PR.com
)-- This summer, twelve male models — and one photographer — from around the world joined forces to show the sexy, diverse side of New York City in a new calendar for 2010: Sexy in the City.
For the past ten years, New York City firefighters have cornered the market on New York City wall calendars. This past July, while admiring some lifeguards on the beach in Southampton, New York City photographer Bob Johnson thought, "You know… you don't need to be a firefighter to be sexy in the city."
After that day on the beach, Johnson started seeking men who would be interested in participating in the first Sexy in the City calendar. He found men from all over the world who had the desire to be a calendar guy. Two of the models are native New Yorkers; the others are from Sweden, Spain, the Czech Republic, Great Britain, the Dominican Republic, Florida, Arizona and Atlanta.
During the next month and a half, Johnson and his models hit the streets to capture images for a calendar that reflects the diversity of New York City. And, also, to show off the beautiful backdrops offered by one of the greatest cities in the world.
The calendar is available online at www.SexyInTheCityCalendar.com.
Johnson, a photographer and writer, has lived in New York City for more than ten years. His photography has been published in The New York Times, The Star Magazine,TimeOut/NY, BroadwaySpace.Com, Newsday, John Eliot Gardiner's Cantatas Vol. 15: New York and more. The View and TMZ also have featured his photos. His work has been displayed in exhibitions in New York City and three of his images are on permanent display in "The Smile Experience" at The National Museum of Dentistry, a Smithsonian affiliate museum in Baltimore.
To see images from most of the calendar shoots (and more of Johnson's work), visit http://wwwBittenByAZebraPhotography.com
###