A New Feature: Custom Backing Track, a Worldwide Exclusive Offer for Musicians
The "backing tracks" are the instrumental versions that accompany a singer. Thanks to the success of having 20,000 available songs, the karaoke version website now offers a new feature, the "custom backing track": a state of the art service which allows the creation of mp3 accompaniment to download. This is a worldwide exclusive offer.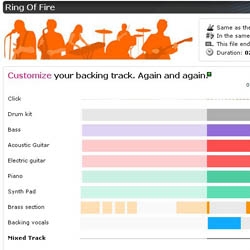 Lille, France, September 24, 2009 --(
PR.com
)--
The custom backing track
is for all music uses. The possibilities are infinite. For musicians who long to play the solo of "Stairway to heaven" on an instrumental-without guitars- version, for singers who wish to sing on the acoustic version of "Pain it black" while suppressing electric instruments, or for singing teachers, masters that want to isolate the vocals of the song "Summertime" as made famous by Ella Fitzgerald in order to train pupil's voice.
The custom backing track is a new feature and an innovative method that offers new possibilities to musicians. The principle is quite simple. By selecting a song, removing the unwanted tracks, the musician gets backing tracks without drums, backing tracks without guitar...
Previously there was no such thing when it came to train. To play along on legendary tunes. To rehearse and to record favourite bands while the track involving usual instruments has been removed. This
karaoke-version's
feature allows to set the volume of each instrument to create a mp3 accompaniment.
The assets of custom backing track are the universal MP3 format, the profesional quality, the possibility to test the program through free songs ready to be mixed, the limitlessness in mixing and over 2000 available songs so far.
A family business....
The Defossez brothers have always thought that their complementarity could lead to a common project. Jean-Baptiste, the elder, is a computer enthusiast and masters the web brilliantly. Barthélémy, the youngest brother, is particularly gifted in musical creation. They design the Karafun software in 1995, an innovative and promising software at the time. Armed with this experience, they create the Recisio company and the Karaoke website in September, 2005, in Lille. Only 50 backing tracks where then available. Today, it's more than 20,000. In less than 4 years, the website has found a major place on the Internet. Figures speak for themselves: more than a million connections from all around the world each month. Prone to new experiences, always on the look-out for new services, Jean-Baptiste and Barthélémy have launched the "custom backing track" concept in January, 2009.
###
Contact
Recisio
Jérôme Pruvost
0320953754
www.recisio.com

Contact