WhereverTV Provides Live International News and Television at the G-20 Welcome Center
Pittsburgh-based WhereverTV brings the World of TV to the G-20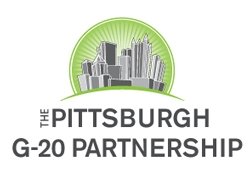 Pittsburgh, PA, September 25, 2009 --(
PR.com
)-- WhereverTV, a Pittsburgh-based "over the top" Internet television provider, will be featured in Pittsburgh's G-20 Welcome Center for news media and international visitors during the G-20 Summit held in Pittsburgh on September 24th and 25th.
Visitors to the Regional Enterprise Tower, located at 425 Sixth Avenue in downtown Pittsburgh, will be able to stay in touch with events in their home countries as well as watch global coverage of the G-20 Summit from a big screen television located in the Welcome Center's lobby.
"Bringing in WhereverTV was a natural fit for the Pittsburgh G-20 Partnership Welcome Center since we want to provide as many services and amenities to international visitors and the global media during their stay in Pittsburgh," said Robert Petrilli, Managing Director for the Pittsburgh G-20 Partnership.
Live news and other channels from Argentina, Australia, Brazil, Canada, China, France, Germany, India, Indonesia, Italy, Japan, Mexico, Russia, Saudi Arabia, South Africa, South Korea, Turkey, United Kingdom and the United States of America will be available from WhereverTV during the G-20 Summit. More than 3,500 international journalists are expected to be in Pittsburgh for the event.
"It is an honor and a privilege to be involved with such an important event for the City of Pittsburgh and the Western Pennsylvania region in general," said Mark Cavicchia, CEO of WhereverTV.
WhereverTV works with leading media companies and niche broadcasters of live and video on demand Internet video, providing content distribution services to any TV in the world. WhereverTV's technology family includes include the Global IPG® – an interactive program guide with more than 1,400 live and on-demand television channels from 80 countries that integrates a traditional lean-back TV viewing experience with the wide variety of programming available on the Internet, the WhereverTV Yahoo! TV Widget – to be released during 4Q2009; and the WhereverTV Receiver, an award-winning device that provides consumers with access to a world of television from any living room – or hotel room – in the world.
Please visit http://www.PittsburghG20.org for ongoing updates of summit-related news and information, calendar of events updates and more.
###
Contact
WhereverTV
Mark Cavicchia
412-663-0094
www.wherever.tv

Contact