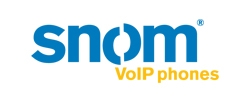 Beverely, MA, September 25, 2009 --(
PR.com
)--
snom technology AG
, a leading developer and manufacturer of advanced voice over IP phones (VoIP) for enterprise and residential markets, today announced that its business-class VoIP phones are compliant with Avaya's IP Office. Avaya is a leading global provider of business communications applications, systems and services.
The snom 820 IP Phone, snom MeetingPoint IP Conference Phone, snom m3 IP DECT Phone, and snom 300 series IP phones provide businesses with rugged, commercial grade quality and advanced communications functionality. These SIP-based intelligent endpoints are now compliance-tested by Avaya for compatibility with Avaya IP Office 5.0.
"We're pleased to achieve Avaya compliance testing and to join the Avaya DevConnect program," said Dr. Michael Knieling, executive vice president of Marketing and Sales for snom technology AG. "Business customers are embracing innovations based on open standards that help them easily and cost-effectively get the most out of their communications infrastructure. Gaining Avaya compliant testing means snom technology customers can benefit from enhanced business communication tools, combined with a highly scalable and reliable PBX solution."
snom technology is a member of the Avaya DevConnect program—an initiative to develop, market and sell innovative third-party products that interoperate with Avaya technology and extend the value of a company's investment in its network.
As a Gold member of the program, snom technology is eligible to submit products for compatibility testing by the Avaya Solution Interoperability and Test Lab. There, Avaya engineers develop a comprehensive test plan for each application to verify whether it is Avaya compliant. Doing so ensures businesses can confidently add best-in-class capabilities to their network without having to replace their existing infrastructure—speeding deployment of new applications and reducing both network complexity and implementation costs.
"By offering compliance testing to the many innovative companies like snom technology who are members of our DevConnect program, Avaya promotes fully interoperable solutions that help businesses unleash powerful new possibilities," said Eric Rossman, vice president, developer relations and technical alliances, Avaya. "They are able to use Unified Communications to connect employees and customers to information from wherever they are, over whatever device they have available – getting more out of their multivendor network and delivering new value to their bottom line."
About Avaya
Avaya is a global leader in enterprise communications systems. The company provides unified communications, contact centers, and related services directly and through its channel partners to leading businesses and organizations around the world. Enterprises of all sizes depend on Avaya for state-of-the-art communications that improve efficiency, collaboration, customer service and competitiveness. For more information please visit www.avaya.com. For more information on the Avaya DevConnect program, visit www.avaya.com/devconnect.
About snom technology AG
snom technology AG develops and manufactures VoIP telephones and related equipment based on the IETF open standard, SIP (Session Initiation Protocol). Recognized for its high quality, customizable and cost-effective business solutions, snom is also differentiated by the company's history in the VoIP industry, and its dedication to high security standards. All of snom's software exists in the firmware on the phones – making it easier for users to download updates and new features. snom customers benefit from the interoperability and flexibility that the snom telephones offer, including plug and play integration and universal compatibility with any SIP-based telephony platform. Founded in 1996 and headquartered in Berlin, Germany, snom technology AG also has an office in Beverly, MA. The company distributes its fourth generation SIP phones through its network of authorized reseller partners in Europe, South America, Asia-Pac, Africa and Australia. For more information on snom, please visit www.snom.com.
###