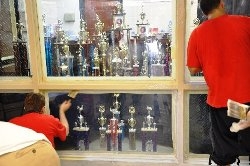 McKinney, TX, October 09, 2009 --(
PR.com
)--
Credit Repair
company, RMCN Credit Services, Inc.'s (
www.RepairMyCreditNow.com
) CEO, Doug Parker and Manger, Eric Gomez volunteered at The Bald Eagle Recreation Center in Washington, D.C. while attending the third annual Inc. 500 / 5000 awards ceremony.
Location
100 Joliet St., SW
Washington, DC 20032
(202)645-3960
Contact: Margie Robinson
Information about the service partner:
The Bald Eagle Recreation Center is operated by the Washington DC Department of Parks and Recreation and is located in Ward 8 of Washington DC. Ward 8 is home to some of our Nation's Capital's most pressing urban challenges: As of the 2000 census in Ward 8 (statistics taking from Neighborhood info DC)
Thirty-six percent of families live in poverty, the highest rate in Washington DC
Forty-seven percent of children live in poverty, the highest rate in Washington DC
The average family income is the lowest in Washington DC, and is more than $40,000 lower than the city's average
There is the highest instances of violent crime in Washington DC
To help residents combat these problems and provide them with the skills and opportunities to be successful, Bald Eagle Recreation Center provide a myriad of programs designed to give all residents of Ward 8 a safe and productive place to learn, grow and come together as a community.
Some of the programs include:
After School Programs for children that include tutoring, academic support and recreational activities
One of the largest and best run boxing program for youths and adults in the city, if not the country
Senior citizen programs which combat isolation and alleviate hunger
Recreation and sport programs for residents of all ages
Cultural activities such as dancing, drama and music
Computer classes with open lab access for children to complete their school work
Youth clubs designed to help mentor young men and women such as Concerned Black Men and Young Ladies on the Rise
Summer programs for children during the school vacation period
The Bald Eagle Recreation Center engages almost 5,000 residents a year and provides them a welcoming oasis. Their service is designed to help Bald Eagle become an even more useful and pleasing environment for local residents and families.
Information about their service tasks:
Today they will divide into five teams to complete the following:
#1 Create a Learning Zone in the center's computer lab
#2 Repaint the Band Room and Dance Room
#3 Create a Trophy Display Room to show the center's many awards
#4 Paint murals for the Gym, Learning Zone, Trophy Display Room, and Band Room
#5 Re-paint the rear hallway of the center
###