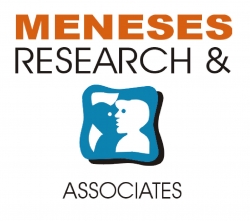 San Diego, CA, October 14, 2009 --(
PR.com
)-- Meneses Research and Associates, a local transcultural marketing research firm, will publish the results of its "Ask U.S. Hispanics" Consumer Profile 2009 study. Data collection for this study will be conducted from October 13 to 25, 2009. Meneses Research & Associates will interview 1,000 self-identified Hispanics via telephone. This national representative sample will include large metropolitan cities as well as small towns. The interview will be conducted with the head of household, over 18 years old, in their language of preference. This report will aim at determining media preferences in radio, television, internet and print. Additional information will be available such as: critical up-to-date demographics; purchase intent of a house, brand new car and computer; the preferred language by Hispanics at home, at work, with friends and for media consumption. All data will be presented by total as well as split into four regions. Some data will be sorted by the Level of Acculturation and Level of Financial Stability, two proprietary segmentation models of Meneses Research & Associates. Data collection will be conducted utilizing the telephone facility of Americas Survey Company who is partially sponsoring this study.
The results from the previous "Ask U.S. Hispanics" 2004 study indicated that most Hispanics who are recent immigrants are not financially stable due to lower income, lack of a checking account and the also because the majority of this segment are renters. As Hispanics live for a longer period of time in the U.S. and are exposed to financial services such as checking accounts, building credit and ultimately purchasing homes, their level of financial stability improves dramatically. Also, the access to the Internet among Hispanics in the "Ask U.S Hispanics" 2004 report was lower than the general population. The 2009 study will include the usage of Social Media and will measure the change in Internet usage and financial stability from the previous study.
Since 2001, Meneses Research & Associates has been publishing studies about Hispanic consumers nationally and internationally as well in the San Diego Region. "Ask San Diego" Report 2001 to 2008, "Ask Tijuana" Report 2002, "Ask Hispanic Teens" 2002, "Ask U.S. Hispanics" Report 2004.
Copies of the study are available for $595 which is the same price as in 2004. Order before October 30, 2009 for $450. To order the study or acquire additional information on how to obtain your copy of any of the aforementioned reports, please contact Walter E. Meneses at 619.200-7124
E-mail: info@menesesresearch.com or visit
www.menesesresearch.com
###