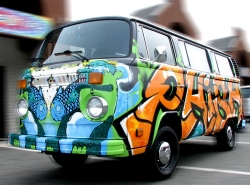 Fairfield, NJ, October 15, 2009 --(
PR.com
)-- The old utilitarian Volkswagen Bus was a staple among hippies in the 1960s and 1970s and continued as the vehicle of choice for many who identified with the counterculture ethos of that era.
Although today the classic VW Bus is something of a rarity outside classic car shows, the HippieShop, based in Fairfield, NJ and the world's largest retailer of hippie clothing and accessories, has brought one out of hiding and given it a brilliant makeover in celebration of the return this year of the band Phish.
Dubbed "Joy," which also happens to be the title of Phish's latest studio album, the bus will be given away via a random drawing at approximately 8:00 pm on November 1, 2009, the final day of the band's Halloween weekend-long Festival 8 at the Empire Polo Club in Indio, CA. Joy started life on the west coast, before ending up at HippieShop's warehouse. Two artists worked for a week to transform her from a nice, mild-mannered bus into a totally groovy Phish-inspired masterpiece. Joy has been transported back across the country and will be on display at the concert. The next stop will be the driveway of a lucky Phish phan.
Raffle tickets are $10 each. Proceeds will support non-profit programs funded by The Waterwheel Foundation, established in 1997 to oversee Phish's various charitable activities.
"We love to do things that make hippies happy," said Anthony Antonelli of HippieShop. "When Phish announced late last year that they were coming back our first response was 'Awesome,' because we love the music. Then, from the first shows in Hampton on through the summer, we saw how much the hardcore community missed the band and how new people were getting to know Phish. It was at that point that we decided to do something to celebrate that passion and we definitely wanted to support WaterWheel's work. The bus seemed like a natural and was a lot of fun to do."
For complete information, including official rules and how to purchase tickets, visit the
HippieShop/Phish VW Bus Giveaway
site, call 1-973-808-4479 or email: support@hippieshop.com.
About HippieShop
Established in 1997, HippieShop is the world's largest retailer of Hippie clothing & accessories. With a retail store at 1275 Bloomfield Avenue in Fairfield, NJ and a popular website—www.HippieShop.com—HippieShop sells hippie-style clothing, gifts, accessories, band-related merchandise, tie-dye, home décor, incense, hemp-organics, footwear and much more, all at discount prices. Over the last decade HippieShop.com has delivered unique products to over a 100,000 satisfied customers all over the world. HippieShop inhabits an 11,000 square foot location that houses offices, a warehouse and a new retail store.
About The Waterwheel Foundation
Since 1997, Waterwheel's Touring Division has raised funds for a selected non-profit in each community Phish visits while on tour. To date, the Touring Division has donated over $575,000 to more than 307 non-profits. Waterwheel has given over $1 million to 29 organizations working on issues affecting Lake Champlain. Grants have been made for land conservation, environmental advocacy, grassroots activism, education, and capital projects such as equipment purchases. Phish continues to support The Lake Champlain Initiative by donating a percentage of the royalties from the sale of Ben & Jerry's Phish Food ice cream to support the environmental well being of Lake Champlain and its watershed. To contact Waterwheel, email ww@phish.com or write to P.O. Box 4400, Burlington VT 05406.
###