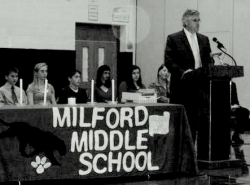 Quakertown, PA, October 16, 2009 --(
PR.com
)-- On October 14th, 2009, Author Jeffrey B. Allen was the guest speaker at the induction ceremony for the National Junior Honor Society at Milford Middle School in Quakertown, PA. The annual event inducted 18 new members. The ceremony was presided over by Principal, Mr. Derick Peiffer and coordinator, Mrs. Melissa Weinstein.
Jeffrey B. Allen's new novel, GoneAway Into the Land has recently been accepted by the Quakertown School Board as suggested reading, and has been purchased for the school libraries at the middle school and high school levels. Allen spoke about the deeper meaning of achievement and its relationship to selflessness. The event was attended by over one hundred proud parents, relatives and teachers.
For information on Author, Jeffrey B. Allen and his availability to speak at your event, write to Jeff@jeffreyballen.com.
###