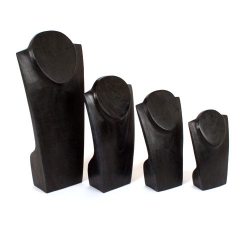 San Francisco, CA, October 24, 2009 --(
PR.com
)-- Not satisfied with what was available in the jewelry display market, owners of NesserryGoods.com set out to find something different. They seem to have found it in a unique handcrafted solid wood jewelry display line.
NesserryGoods.com, based in Sausalito, California, carries a full line of wood jewelry displays. Most of their displays are available in four colors: black, natural, red and walnut.
Necklace displays are their specialty. They carry four sizes and two different neck styles, a round neck version and v-neck version. The four color choices really give store owners several options, whether they are going for a natural, earthy look, in the natural or walnut colors, or an elegant look in the black or red.
Something not seen before is their glass necklace displays. These displays are available in three colors, clear, smoke and blue. The two-piece design is a neck made of glass and the base of the display is white stone. A very unique necklace display that we haven't seen available anywhere else.
Their display hands are a creative way to display jewelry as well. Most of their hands are true-to-life petite sizes. They also look great on a coffee table, console table, or shelf.
NesserryGoods.com also carries several countertop displays, earring displays, earring trees, bracelet racks, t-bars, as well as ring cones and bracelet cones.
To visit NesserryGoods.com's online store go to: www.NesserryGoods.com or call or call 1-888-444-2659. NesserryGoods.com specializes in handcrafted wood jewelry displays and glass necklace displays.
###