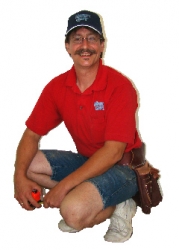 Des Moines, IA, November 01, 2009 --(
PR.com
)-- Handy Guy, a professional handyman company serving Des Moines, Iowa and surrounding communities, is pleased to announce the launch of a new domain,
http://www.desmoineshandyman.com
. A resource for Des Moines area residents needing extra help with carpentry, plumbing or remodeling projects, Handy Guy offers a variety of handyman services and help for do-it-yourselfers.
With over 28 years of experience to draw from, Handy Guy delivers professional handyman services at affordable prices - and with a gentleman's ethic - every time. Putting honesty and dependability in front of profit is Handy Guy's business model, and they work hard to ensure that every new customer becomes a repeat customer.
Unlike the handyman franchises that are becoming increasingly common throughout the country, Handy Guy is a locally owned and independent business. Being independent allows Handy Guy to avoid franchise fees and company markups, and those savings are passed directly to their customers.
Handy Guy offers a wide variety of household repair and remodeling services, including carpentry, drywall, tile installation, interior and exterior painting, plumbing, electrical work, basement finishing, bathroom and kitchen remodeling, and more. Based in Des Moines, these services are offered to all surrounding communities, including Altoona, Ankeny, Johnston, Clive, Norwalk, Waukee, West Des Moines and Urbandale.
Handy Guy is no stranger to Des Moines, he has operated Handy Guy, LLC from Des Moines for the last 3 years through
http://handymandesmoines.com
. As a Master Handyman he has personal relationships with over 600 satisfied customers who will attest to Handy Guy's quality and exceptional Value. Handy Guy also has trusted relationships with other skilled handypersons. Handy Guy offers conditional internet marketing services to other master handymen (who maintain the same ethic) promoting them as Handy Guys, further expanding the quality and trusted service as far away as Oregon. Through a 2009 independent poll, 99% of his 600 customers who participated rated Handy Guy "The Best Handyman in Des Moines!"
Handy Guy, the Des Moines, Iowa choice for handyman services, is owned by Jeremy Olson. A professional handyman with over 28 years of experience, Olson is a licensed contractor, and prides himself on honesty and dependability. Visit
http://desmoineshandyman.com
today to learn more.
###