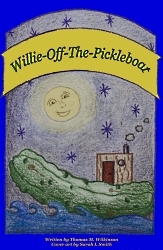 Tucson, AZ, November 03, 2009 --(
PR.com
)-- Tucson author Thomas M. Wilkinson mixes old myths with new ones to tell the tale of the pickle Christmas ornament in his new children's book
Willie-Off-The-Pickleboat
(978-0-557-06181-5, trade paperback, 71 pp, 6 x 9, $12.99, also available in e-book for $5.00).
It is allegedly an old German tradition to hide a pickle ornament on a Christmas tree and that the child who finds it will receive a special gift. But the more Wilkinson delved into the pickle tradition while researching old European holiday myths, the more he discovered it to be a fabrication.
"There is no such tradition. It's made up," Wilkinson explains. "But that's not to say there shouldn't be one. The tradition has all the elements of a great story: a holiday, a treasure hunt, a reward. And this is where the power of myth comes in to create new tales, especially when you tap into Santa Claus predecessors such as the ominous Belschnikel, who doles out gifts and punishment to good and bad children respectively."
Inspired by reading global Christmas traditions, Wilkinson wrote the story in December 2008, drawing from Christmas figures such as the Pa. Dutch "Belschnikel" and the Italian "La Befana" to craft an old holiday story with strong parallels to our modern world. The title character "Willie," a benevolent, but mischievous character, is also drawn from myth, loosely inspired by Charon, ferryman of Hades in Greek mythology.
Willie-Off-The-Pickleboat is available on Lulu.com and can be ordered from any major bookseller (978-0-557-06181-5, trade paperback, 71 pp, 6 x 9, $12.99, also available in e-book for $5.00).
###
Thomas M. Wilkinson
is 38 years old and works in IT. Born in Washington, D.C., he now lives with his wife in Tucson, AZ where he spends his free time writing and photographing wildlife. His book can be found on Lulu.com at http://www.lulu.com/content/6208204/.
Lulu.com:
Lulu.com is the premier marketplace for digital content on the Internet, with over 300,000 recently published titles, and more than 4,000 new titles added each week, created by people in 80 different countries. Lulu is changing the world of publishing by enabling the creators of books, video, periodicals, multimedia and other content to publish their work themselves with complete editorial and copyright control. With Lulu offices in the US, Canada, the UK and Europe, Lulu customers can reach the globe.