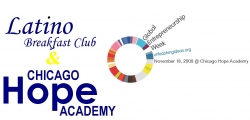 Chicago, IL, November 14, 2009 --(
PR.com
)-- As part of the Chicago area participation in Global Entrepreneurship Week, The Latino Breakfast Club (LBC) and Chicago Hope Academy (Hope) present "Bridging the Gap." On November 18th, 2009 at 3pm, the Senior Class of Hope and members of business communities around Chicago will come together in a celebration of entrepreneurship.
There are three primary gaps these groups will address at this event. The first is between faith and business. Inspiring entrepreneurs will share their personal stories of how their spirituality has impacted their decisions and outlook on business. "We will demonstrate how we encourage our Marketplace Leaders to build Kingdom based companies that put Christ at the center of their work," says Richard Martinez, founder of the Latino Breakfast Club.
Second, the participants will work towards closing the gap between the theoretical and the practical. Hope recognizes that developing sustainable programs for young entrepreneurs is the way to have a lasting impact on young people. This event will include a brainstorming session in which students, teachers, and businesspeople can generate innovative and pragmatic ideas for launching ongoing entrepreneurial programs. "Partnership with the business community is in the DNA of Chicago Hope Academy, which was founded in 2004 when a group of businessmen purchased and renovated the buildings that now house our school," says Joel Settecase, Economics Teacher at Hope.
Third, the gap between the business managers of today and the leaders of tomorrow will be bridged through relationships. There will opportunities for young people to be mentored by men and women who can share their wisdom and compassion.
Scheduled speakers include Richard Martinez, Founder of The Latino Breakfast Club; Bob Muzikowski, Founder of Chicago Hope Academy; Ms. Alex Alvarado, Geralex Cleaning; Warner Cruz, JC Restoration Services; Mike Saltijeral, Industrial Fence Inc.; Mark Handy, Kenjiva; Matthew Sapaula, the Host of Money Smart Radio; and Aurora Reinke, President of Flash Forth.
To get involved or RSVP for this event, please contact Aurora Dawn Reinke at 312 320 0076 or email aurora.reinke@flashforth.com.
About The Latino Breakfast Club: The LBC is an emerging national Christian-Latino Business Association whose mission is to be the bridge that connects faith to the marketplace. To learn more, visit www.latinobreakfastclub.org.
About Chicago Hope Academy: Hope is a co-educational, non-denominational college and life preparatory school dedicated to nurturing and challenging the whole person - mind, body and spirit - to the glory of God. To learn more, visit www.chicagohopeacademy.com.
About Global Entrepreneurship Week: From November 16-22, 2009, millions of young people from more than 75 countries around the world will join a growing movement of entrepreneurs, to unleash their enterprising ideas. GEW is founded by the Ewing Marion Kauffman Foundation in the U.W. and Make Your Mark in the U.K. Learn more at www.unleashingideas.org.
###