Digital Marketing Collective Launches with 4 Agencies -- Industry Vets on Board
There is a new agency in town: Digital Marketing Collective (DMC). DMC is a new resource for contemporary marketers faced with the challenges of consumers and businesses shifting their attention from traditional media – television, radio and print – to the Internet, wireless devices, games and other digital devices.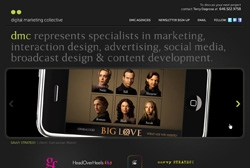 New York, NY, November 18, 2009 --(
PR.com
)-- Terry Dagrosa is proud to announce the launch of Digital Marketing Collective (DMC) a new resource for contemporary marketers. DMC represents four innovative agencies—specialists in marketing, advertising, interaction design and social media. Services include strategic planning, brand strategy, advertising, website design and development, mobile marketing, broadcast design, augmented reality applications, gaming, and community engagement marketing. The four agencies represented are:
· Head Over Heels, The Elationship Marketing™ Agency
· Savvy Strategy, Community Engagement Marketing
· gf Creative, Graphic Design Firm
· GuestStar, Broadcast Design & Production
The marketing industry is undergoing a fundamental transformation as consumers and businesses shift their attention from traditional media – television, radio and print – to the internet, wireless devices, games and other digital devices. "In establishing this company, says Dagrosa, "I've put together a collective of industry specialists that excel in their respective fields to provide a one-stop service offering that is unavailable from most large agencies; and we are often more cost effective and nimble." Prior to founding DMC, Terry was the EVP of Business Development for Behavior Design, one of the country's premiere user experience design firms servicing fortune 500 clients in the entertainment, media, non-profit, and publishing arena. Before Behavior, Terry led business development for The Sloan Group, which is now part of IPG's globl advertising network.
Terry has brought on Steve Males, a cable industry veteran, to run business development for the cable, entertainment and sports industries. "I am thrilled and proud to be working with Terry and this extremely talented group of cutting edge agencies in this ever expanding digital world." In making the announcement, President Terry Dagrosa said "Steve's extensive experience on both the operator and programmer sides of the cable industry will prove extremely valuable as a trusted and consultative resource for our clients."
Angela Strano has also joined DMC and will be heading up new business development with a focus on the Financial Services, Technology, Healthcare, Travel, and Hospitality industries. Angela has had an illustrious career with experience in enterprise development including project strategy, resource planning and overall management for fortune 500 companies. "There is a tremendous synergy here and I am excited to be a part of this organization", said Ms. Strano.
DMC is excited to bring their unique business development talents and connections to both their Agencies and Clients, and look forward to making things happen in 2010.
About DMC companies:
Head Over Heels, the Elationship Marketing™ Agency helps consumers fall (and stay) head-over-heels in love with brands using every means imaginable. Head Over Heels was founded by Alan Shapiro, Chief Creative, Inspiration and Elation Officer, a 15 year veteran of the Omnicom Network, and David Frederick, Chief Engagement Officer, who ran "Living Media" and ecommerce for Coty Worldwide for the past decade.
Founded in 2006 by Curt Neumann, GuestStar creates dynamic broadcast and motion branding content that fuels top brands with high-energy, high impact communications. Fluent in the language of image creation, brand promotion, and media production, the GuestStar team consists of seasoned visionaries with varied backgrounds, lifestyles and marketing expertise. This eclectic fusion of experience imparts unique insight into the forces driving today's consumer culture.
Savvy Strategy is a NY-based agency that specializes in digital marketing, social media and building communities. Savvy leverages the power of social media to generate buzz, consumer engagement, action and conversion. Founded by Sheryl Victor Levy and Michael Hummel, Savvy Strategy customizes a suite of services for projects big and small with a focus on entertainment, cable, youth marketing and not-for-profit organizations.
GF Creative specializes in developing elegant design solutions that helps define brands and resonates with consumers. From strategic brand development and corporate identity design to print collateral, signage, catalogs and advertising, GF Creative offers a full range of services and ensures brand consistency across all consumer touch-points.
###
Contact
Digital Marketing Collective
Terry Dagrosa
646.522.9758
www.DigitalMarketingCollective.com

Contact