Fun Shakers LLC Want to Shake Up Your Dinner Parties with Obama and Biden Salt and Pepper Shakers, Available Now
Obama and Biden have taken over the nation and now they are taking over your dinner table! Fun Shakers is now releasing its new product of salt and pepper shakers for the Christmas Season. Whether you party on the right, left or somewhere in between, this set will bring your party together! Coming soon the first lady collection with Michelle and Hillary. Sales exceeding expectations, only available at www.funshakers.com. Start collecting today.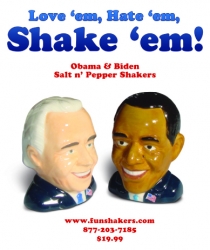 Sarasota, FL, November 25, 2009 --(
PR.com
)-- This new product featuring President Obama and Vice President Biden is sold exclusively by Fun Shakers. Political and culinary fans alike are going to love this combination. If you know someone who fits this description then buy a Fun Shaker set for them today. The shakers make great stocking stuffers and even better conversation starters.
www.funshakers.com
"Not just practical, these salt and pepper shakers are mini pieces of art and a great way to commemorate our current historical presidential administration," says Julian Parry, president of Fun Shakers. "This is the first time we have created a special edition set in honor of our country. Ever since the news got out, we have been receiving phone calls and emails from guests who want to be on the top of the list to get their own Obama-Biden shakers," he added.
About Fun Shakers, LLC
Fun Shakers what established in 2009 in Sarasota, Florida. The company is a division of Fun Friends Inc., www.funfriends.com which is known for its lovable, animal cell phone covers, t-shirts, key chains, magents, ipod covers and other novelty items. If you want to add a bit of fun to your lifestyle you will find that at Fun Friends and Fun Shakers!
###
Contact
FunShakers LLC
Julian Parry
941-343-9444
www.funshakers.com

Contact