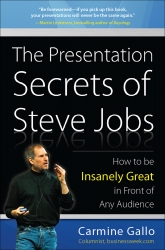 San Francico, CA, November 27, 2009 --(
PR.com
)-- Give the student, entrepreneur or business professional in your life the gift of inspiration this holiday season. Currently ranked as a bestselling presentation and communications title on Amazon.com, Carmine Gallo's new book,
The Presentation Secrets of Steve Jobs:
How to be Insanely Great in Front of Any Audience, is a hit with readers around the world. Since its release in October, the book is in its fifth printing and will be translated into at least eight languages.
Influential technology analyst, Rob Enderle, recently recommended the title for aspiring CEOs. "This book should be in every executive's library," according to Enderle.
Readers will learn how create, deliver and refine a presentation the Steve Jobs way. For more than three decades, the Apple co-founder has turned product launches into an art form. Jobs' presentations are theatrical experiences complete with stunning visual backdrops, heroes and villains, demonstrations and a supporting cast. "Every slide is written like a piece of poetry," according to Apple experts quoted in the book.
The Presentation Secrets of Steve Jobs is published by McGraw-Hill and is available at Barnes & Noble, Amazon.com, CEORead.com, Borders and wherever books are sold. "Be forewarned—if you pick up this book, your presentations will never be the same," says bestselling author and branding expert, Martin Lindstrom. The book provides the reader with everything they need to captivate, excite and motivate an audience (turtleneck not included).
Learn more at http://www.carminegallo.com/stevejobsbook
###