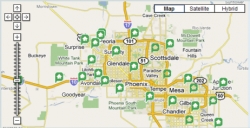 Phoenix, AZ, November 30, 2009 --(
PR.com
)-- Renting a home in Arizona just got easier with the release of GoRenter.com's interactive rental map and advanced search filters. With this latest technological advancement clients of GoRenter.com can spend time researching potential rental homes throughout the Phoenix-metro area with the click of a mouse easier than ever. Drill down your search criteria from city, zip code, or even cross streets without having to divulge any personal information to do so. "There are so many websites out there that force renters to input their phone number or email address to view location information. Since all of the homes we advertise on our site are managed by GoRenter.com we wanted to develop a search friendly way for our potential clients to view properties that match their criteria," says Berne Fleming President of GoRenter.com LLC.
From Homeowners To Renters
With foreclosures at an all time high Arizona is seeing a shift from owners to renters and the property managers at GoRenter have never been busier. "Rental homes are affordable and inventory is plentiful," Fleming adds. "Even apartments can't compete with some of the fantastic deals real estate investors are willing to give our clients."
Local Investors Love The Marketing And Technology Offered From GoRenter.com
When Dana Van Hoose began investing years ago, he managed all of his own properties. Quickly he realized that property management is a full time business once he got more than one or two rentals. "It became a job which is exactly the opposite of why I quit my "real job" and got into investing. I had to find a company that utilized the internet and aggressive marketing efforts to get my properties rented with quality tenants. That is exactly what I found at GoRenter.com!" This new
rental homes
search feature is a fan favorite for many investors including Dana. "Part of the reason I continue to work with the property managers at GoRenter is because of their commitment to technology. The easier it is for potential tenants to find my houses the faster they get my properties rented out and I really like that."
Searching Homes For Rent In AZ
There are many reasons to use the new GoRenter.com website to search for a home for rent in AZ besides the interactive rental map. Newly listed houses and rental homes by city are dynamically produced based off of a users search preferences. Users can also fill out an easy-fill online rental application and research city information all in one place! More features and more houses make the GoRenter website a popular portal to find
homes for rent in AZ
.
About The Author
GoRenter.com is a leading provider of professional residential
property management services
in the Phoenix-Metro area. We are dedicated to maximizing the return on investment for our clients while maintaining quality housing opportunities for our residents. We manage all residential properties including single family homes, condominiums, townhomes, and duplexes. Our mission is to offer personalized and professional service to both our clients and customers by building strong relationships, utilizing the latest technology, implementing effective marketing strategies, following consistent systems all with honesty and integrity throughout every facet of our business. We are confident that our team will exceed the industry standards in the service we provide.
###