Soundmatters Introduces foxLv2 Bluetooth: the Tiny Portable Speaker with Wireless Good Enough for an Audio Purist
Soundmatters introduces the foxLv2 Bluetooth... the first pocket-sized portable speaker system with wireless music performance good enough for the audio purist. foxLv2 is the successor to the highly acclaimed original foxL... named a Top 10 Gadget of the year by TIME magazine. With foxLv2 Bluetooth from an iphone has never sounded so good... also doubles as an excellent "business-quality" wireless hands-free speaker/conferencing system. $199 Street price. Available December 15.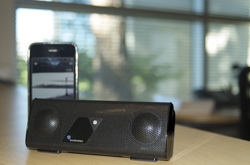 Reno, NV, December 01, 2009 --(
PR.com
)-- Just in time for the latest generation of Bluetooth Stereo capable music/smartphones, Soundmatters is pleased to announce its next generation foxL™ "V2 Bluetooth" pocket-sized loudspeaker, providing "the first pocket-sized speaker good enough for an audio purist" with a range of significant performance and operational enhancements.
"Last fall, we introduced foxL, the first highly portable true high-fidelity speaker solution, Sound & Vision magazine called it, 'the absolute best gift ever for the audiophile.'" commented Soundmatters Vice President Lee Adams. "Listening to the new pocket-sized foxLv2 - with no wires attached, fundamentally changes how and where we can enjoy high fidelity sound!"
foxL V2 Bluetooth with Hands-free Conferencing includes:
Audiphile Sound Quality – Nuanced improvements to the award-winning foxL's patented "Twoofers" along with the patented "BassBattery" provide for smoother deeper bass, even more "open & airy listening experience."
Impressive Bluetooth – foxL's new Bluetooth circuitry provides 3x its previous range, dramatically lower distortion and noise for both music and hands-free operation. Unlike its predecessor, the V2 also automatically pairs/searches for a Bluetooth device and you can now answer and terminate a call from the speaker.
Plays Louder – While still designed for up-close and personal listening, the foxLv2 provides up to 3dB more output than the original foxL, to fill most rooms.
Plays & Charges Anywhere – Along with it's patented re-chargeable built-in woofer/battery (good up to 5 hours of play, foxLv2 comes with a universal AC power charger and now includes four plug-in int'l adapters (US/Japan, Europe/China, UK/HK, and AU/NZ) …plus USB cable for slow charging via computer.
More Accessible Pricing – The foxL V2 Bluetooth with Hands-free Microphone, @ $199 (MAP/Street Price), is $50 less than it's predecessor. Also available is the non-Bluetooth foxL V2, at $169 (MAP/Street Price), a $30 savings over the original foxL.
Initial Deliveries December 2009
The stereo foxL V2 ($169 MAP/Street Price) measures only 5.6" wide x 2.2" deep x 1.4" high, yet provides full range output (80Hz – 20kHz), with real bass and wide array of connection options for personal listening use with iPod, laptops, music phones, portable gaming and more.
The foxL V2 Bluetooth ($199 MAP/Street Price), improves upon the foxLmb, named a Top 10 Gadget of the Year by TIME Magazine, with the latest wireless music streaming and a built-in noise/echo canceling microphone for use as a high-performance hands-free speaker phone.
###
Soundmatters International, Inc. (www.soundmatters.com), was founded in 1998 by physicist, former NASA engineer, and audio design legend Dr. Godehard Guenther, and is dedicated to developing exceptional performance audio products that enhance, rather than complicate consumers' lifestyles.
Contact
Soundmatters International, Inc.
Lee Adams
775.981.1460 x4
soundmatters.com

Contact