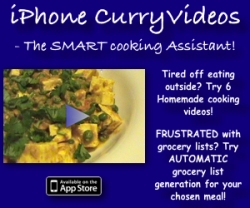 Boston, MA, December 04, 2009 --(
PR.com
)-- iDevelopment LLC announces the release of iPhone
CurryVideos
App to the iTunes App store, a ground breaking application to help individuals shop and cook. CurryVideos introduces individuals to cooking homemade curry dishes and provides tools to help them shop and obtain ingredients to make the meal(s) while on the move.
"We set out to enable individuals to cook good healthy food on their own," explains iDevelopment CEO Kumar. "CurryVideos helps individuals throughout their entire dining process. Individuals can now pick meals they like, generate a list of shopping that needs to be done, and find places to buy the ingredients. The locally stored video then helps them cook the meals. All this at a fraction of the cost of eating out, saving customers significant amounts of money."
The shopping cart generator is one of the favorite new features. Individuals can select one or many different meals and with one click they will have a portable shopping cart of all the ingredients needed for those meal(s). The shopping list is organized by common shopping categories such as Produce, Dairy, Poultry, and Spice. Individuals can then check of items as they are retrieved when they go shopping.
"Individuals need to keep track of what they need to buy for their meals and when they buy them. The shopping generator allows them to do both, even while on the go," explains Kumar.
CurryVideos can also provide individuals with detailed information on every ingredient in each meal. This information is useful to understanding what each cooking ingredient does in a meal.
"Individuals can now quickly learn about various spices and other ingredients involved in making curry dishes. For example, they no longer have to mistake different spices as each spice has a picture of how it looks as an ingredient. Making shopping and using spices very convenient and clear."
CurryVideos performance is exceptional as all the videos are stored locally. This allows individuals to jump to different parts of each video quickly without having to wait for the internet connection.
CurryVideos is available for download directly in the iTunes Apple Store at an attractive introductory price of only $1.99. (http://itunes.curryvidoes.net).
About iDevelopment LLC.
iDevelopment is a U.S.A. based company dedicated to pure mobile and web development. All software is designed and coded in the U.S.A. The company focuses on adding value to individuals lives through web and mobile applications.
###