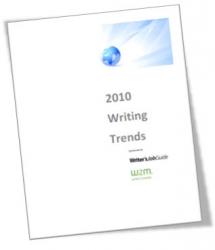 Atlanta, GA, December 07, 2009 --(
PR.com
)-- Today, Atlanta-based content development and communications company Write2Market releases a definitive perspective on 2010 Writing Trends. The report, which draws on factual information as well as expert interviews, paints a powerful picture of what it takes to succeed in communications in the coming year.
"Top writers and content managers are on a new page—one without margins," says Write2Market president Lisa Calhoun. "This absence of borders is a direct result of the digitalization of content, and the fact that information is freer than ever before. And that means it interacts with the audience, and we can see the results." Write2Market predicts that the typical approach to business writing will have to undergo a revolution to give companies the results they need in coming months.
Some of the expert perspectives featured in the 2010 Writing Trend paper include:
*Jeff Bezos, Kindle inventor and Amazon founder.
*Peter Shankman, founder of HARO, who single-handedly reinvented how journalists tell stories.
*Scott Abel, the "Content Wrangler," who jets from conference to conference speaking on trends around content and consulting with the Fortune 50.
*Nona Carson, a lifetime marketing leader and vice president at Cre8ive Partners, who speaks from the trenches in Huntsville, AL.
The paper is available for free, unregistered download at
http://write2market.com/2010writingtrends.fs
.
Write2Market encourages
public relations
agencies, and writers involved in creating more effective communications to redistribute the work under Creative Commons.
###