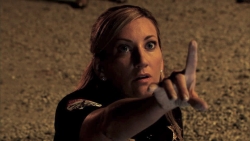 Los Angeles, CA, December 09, 2009 --(
PR.com
)-- "Noble Things" marks the big screen debut of Grammy Award winner, and current nominee, Lee Ann Womack in buzz-worthy performance.
The drama's ensemble cast includes Hollywood icon Michael Parks (Grindhouse, Kill Bill, From Dusk 'Til Dawn) along with Ryan Hurst (Sons of Anarchy, Remember The Titans, Saving Private Ryan) Dominique Swain (Alpha Dog, Face/Off, Lolita) Wes Brown (True Blood, Glory Road, We Are Marshall) Ron Canada (Wedding Crashers, Cinderella Man, National Treasure) and award winning country music star Tracy Byrd.
The movie introduces up-and-coming talent Brett Moses (Beautiful Dreamer, Buffy The Vampire Slayer) in a powerful and touching portrayal of rising country singer "Jimmy Wayne Collins".
"Noble Things" features original songs produced by Clay Walker's E L Music with Performances by well-known artists: Mark Chesnutt, Bo Bice, Pam Tillis, Tracy Byrd,The Drew Davis Band, Blaine Larsen, Nikki Williams, Tracy Lawrence, Dobie Gray, Lane Turner, Zona Jones, The Rachels, and Brock Goodwin with Jenny Gill. The soundtrack is now available for download purchase on Amazon.com, iTunes, Rhapsody and other outlets.
More info at: www.noblethingsmovie.com
###