Volvo Group and Innovative AUS/NZ Start-Up Pocketweb to Fight Climate Change
CO2 tracker "Commute Greener!" for mobile phones helps to reduce carbon footprint of commuters.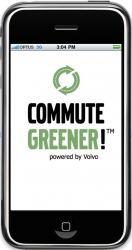 Sydney, Australia, December 10, 2009 --(
PR.com
)-- The Volvo Group and award-winning Australian and New Zealand start-up Pocketweb (www.pocketweb.com.au) have developed a CO2 emission tracking service that can be used by commuters on the web and on the mobile phone. Named "Commute Greener!" the service has been jointly designed and launched at www.commutegreener.com. Commute Greener is available now for anyone to use and will be more broadly launched at the Climate Change Conference in Copenhagen (COP15). Says Pocketweb's CMO Dr. Alexander Koeppen: "If Governments postpone their commitments for CO2 reduction people can act on their own with a simple app on your mobile phone." The new online service helps users become more environmentally aware and enables commuters to quickly see by how much carbon dioxide emissions are reduced, for example by car pooling or by using public transportation.
Following a quick registration on the website the commuter can define the modes of transport that are used for commuting and other trips. The application calculates how much carbon dioxide is emitted when using different modes of transport, such as the car, train, bus, ferry or bicycle. After downloading the application from the iPhone App Store for example, the commuter can then track his daily commuting journeys and compare them against his CO2 saving target.
The service also embeds an online community for exchanging experiences and for running carbon dioxide emissions reduction competitions between colleagues, friends and family members. "Our tests have shown that individuals can quickly reduce their carbon dioxide emissions by more than 30 per cent using Commute Greener," says Magnus Holmqvist at Volvo IT. The service is also available to corporate customers who can use it to measure and reduce the CO2 footprint of the whole company or selected departments.
Commute Greener! is running on Pocketweb's Pocket Life Platform that allows corporates to extend their web business across mobile platforms in a secure and scalable way.
Pocketweb, a recent winner of the global Nokia Innovation Award as well as the Queensland Galileo Masters award for satellite navigation, is on a strong growth path already working with clients from the Telco, Automotive, Disaster Warning and Retail industries. Says CMO Dr. Alexander Koeppen: "Companies and consumers alike more and more use latest generation handsets for value add applications. Our Pocket Life Platform is the leading technology to pave the way. In this context, applications supporting the green economy and emissions reduction are one of our growth areas."
###
About Pocketweb
Australian and New Zealand based company Pocketweb (www.pocketweb.com.au) develops and provides technologies and solutions for Location Based Services (LBS) and LBS-enabled Social Networks including customized mobile applications across leading mobile platforms. In 2008 Pocketweb launched the leading geo-integration platform "Pocket Life" for mobile devices and web browsers which provides applications and bundled solutions for consumer and B2B markets. A consumer facing solution has been launched at www.pocketlife.com.
About Commute Greener!
At present, individuals can download Commute Greener as an application for the iPhone. To download the application to other mobile phones, a city, company or organization must first order access to the application for its inhabitants, customers or employees. More information is available at the following web site: http://www.CommuteGreener.com.
About the Volvo Group
The Volvo Group is one of the world's leading manufacturers of trucks, buses and construction equipment, drive systems for marine and industrial applications, aerospace components and services. The Group also provides complete solutions for financing and service. The Volvo Group, which employs about 100,000 people, has production facilities in 19 countries and sells their products in more than 180 markets. In 2008 annual sales of the Volvo Group amounted to about SEK 300 billion. The Volvo Group is a publicly-held company headquartered in Göteborg, Sweden. Volvo shares are listed on OMX Nordic Exchange Stockholm. For more information, please visit www.volvogroup.com or www.volvogroup.mobi if you are using your mobile phone.
For more information, contact:
Dr. Alexander Koeppen
Pocketweb
contact@pocketweb.com.au
www.pocketweb.com.au
Contact
Pocketweb
Alexander Koeppen
+61 4 123456789
www.pocketweb.com.au

Contact