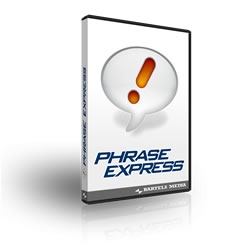 Trier, Germany, December 19, 2009 --(
PR.com
)-- Help for the daily "E-Mail Flood"
In the office world, it is impossible to forget about E-Mails. With an increasing flood of messages comes an exaggerated amount of effort to adequately answer them all.
Modern word processing programs assist the user in the daily paperwork routine. This is evident when the famed Auto text function for abbreviations instantly changes "FYI" into a full "For your information."
The text replacement program PhraseExpress expands this timesaving feature into all Windows-based programs; for example the Internet browsers and database applications. Text templates are also enabled in E-Mail programs with the click of a button.
Microsoft has certified the newest version of PhraseExpress for use with Windows 7. PhraseExpress Version 7 also runs under Windows XP/Vista, both 32- and 64-Bit operating systems. The separate Network Edition allows for the shared use of text blocks for multiple users within a corporation.
PhraseExpress adapts to the writing style of the user
PhraseExpress automatically renders possible answer submissions by way of recurring text entries. If the user consistently writes something like, "Thank you for your message," PhraseExpress will remember this after just a few entries and then offers the complete sentence after entrance of a couple of letters.
In the new Version 7, single words can also be entered instead of just complete sentences when they pass to the sentence context.
Built-In Calculator
PhraseExpress immediately takes notice of the entry of calculations within running text. The program replaces word entries such as, "That costs 14.50+49.95=" upon desire with "That costs $64.45" and therefore saves tiresome act of transferring between word processing and calculator.
Free for personal use
The new version remains free of charge for non-commercial users and can be downloaded at: http://www.phraseexpress.com. Commercial users have the choice of three different program variations, starting at US$39.95.